With the sweltering heat that just won't go away in Texas, I'm dreaming of the Emerson Electric event we recently did. A lovely breeze and a crisp temperature of 75°F. Not to mention the beautiful views underneath the glass-walled pavilion. Their group of engineers came together from across the country to take part in our Build-A-Bike® team event. Our team event was a nice break in the middle of multiple training sessions.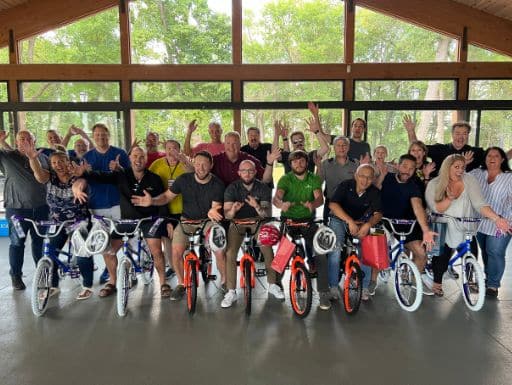 Makes me kind of jealous, to be honest, of the Emerson staff who get to enjoy it everyday. The company specializes in manufacturing products and engineering services for various consumer sectors. Emerson is a multinational company that brings engineering and technology together. In doing so, Emerson strives to create sustainable solutions for each of its customers. My favorite part is our shared passion for STEM and how they share it with the community. Their website offers tons of different activities for kids to try.
Engineers Play Part in Build-A-Bike® Team Event
Although this group is full of analytical experts, their event had a few hitches with latecomers *cough cough*. Thank goodness, for pre-existing, good rapport amongst everyone involved. *Phew!* Their knowledge played well and quickly into each game and clue during the event. Certain teams were quicker than our norm to figure out the clues and how to find the answers. I'd certainly not want to be up against them. It didn't take long for others to figure things out and gain momentum. Thus, earning their bike parts the fastest. Every team and its members were successful in completing their tasks.
Ending with a charitable donation to the YMCA. We hope the kids enjoy their new bikes!