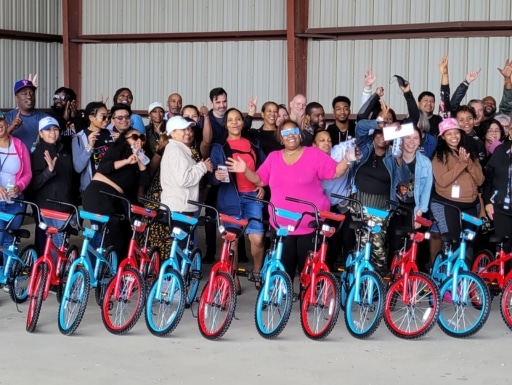 Finish Line, athletic shoe and apparel retail chain, took part in a Build-A-Bike® team building event in Indianapolis, IN. The athletic company aimed to create a meaningful experience for 85 participants while helping the Boys & Girls Club's mission. At the end, the team learned new lessons about team work, and a few lucky children in the community got brand new bikes.
Finish Line, Inc. is an American retail chain specializing in athletic shoes, apparel, and accessories. With numerous stores across the United States, Finish Line offers a wide range of products from leading brands. As a subsidiary of JD Sports, Finish Line is committed to providing quality athletic gear and supporting local communities through various initiatives.
Finish Line builds bikes for charity event in Indianapolis, Indiana
The team building event brought together 85 participants for a day of fun and giving back to the community. By supporting the Boys & Girls Club, Finish Line sought to contribute to the organization's efforts in fostering the positive development of children and teens.
The Build-A-Bike® event took place at the Finish Line Warehouse in Indianapolis, Indiana. Through collaboration and problem-solving, the participants worked together to complete the bikes, fostering a sense of camaraderie and accomplishment.
The participants were provided with a memorable team-building experience, but they weren't the only ones who benefitted. Afterward, the completed bikes were donated to the Boys & Girls Club, where they would be given to a handful of lucky children from the community.
We give our thanks to Finish Line for their generous donation. Furthermore, we also thank the Boys & Girls Club of Indianapolis.
Give your team a boost with a fun team building event! Contact us to learn more about all of our charity team building games in Indianapolis, IN!