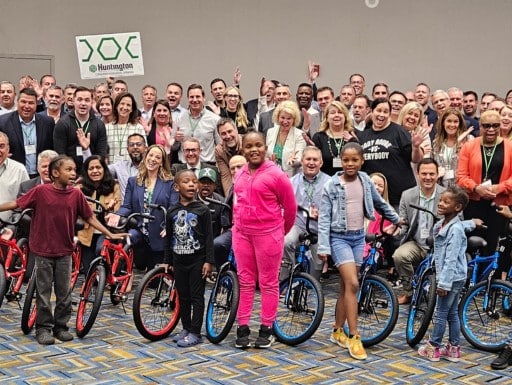 Huntington Bancshares Incorporated attended a Build-A-Bike® team-building event in Detroit, MI. All in all, it proved to be a roaring success. The event was attended by 125 employees representing various departments in the Detroit market. Participants had a fun-filled day learning about each other while assembling bikes for children. After all the fun and games, the team donated the bicycles to the Cody Rouge Community Action Alliance.
Huntington Bancshares Incorporated is a $189 billion asset regional bank holding company with its headquarters in Columbus, Ohio. Founded in 1866, The Huntington National Bank and its affiliates offer a comprehensive range of financial services, from banking and payments to wealth and risk management. The company operates over 1,000 branches across 11 states and serves a wide range of clients, including consumers, small and middle-market businesses, and municipalities.
Huntington Bank Employees Come Together for Build-A-Bike® Event in Detroit, Michigan
The Build-A-Bike® event was a special occasion that allowed Huntington Bank employees to connect on a more personal level while engaging in a charitable endeavor. Given that the participants represented a cross-section of employees in the Detroit market, it provided a unique opportunity for team members to learn about each other's roles, skills, and strengths. With spirited competition and teamwork, the atmosphere was charged with excitement and a collective sense of purpose.
This wasn't Huntington Bank's first involvement with the Cody Rouge Community; they have been active partners for years, aiding the community in multiple capacities. Therefore, the Build-A-Bike® event served as a natural extension of their long-standing relationship with the Cody Rouge Community Action Alliance. The assembled bikes were enthusiastically received by the children supported by the charity, adding a layer of impact and meaning to the day's activities. Through events like these, Huntington Bank reiterates its commitment to making a positive difference in the communities they serve.
We extend our warmest thanks to Huntington Bancshares Incorporated for their generous contribution to the Cody Rouge Community Action Alliance. Your dedication to community betterment and teamwork shines through in every endeavor.
Are you looking to build team cohesion and make a lasting impact in your community? Consider hosting a charity team building event in Detroit, MI to achieve both goals effortlessly.