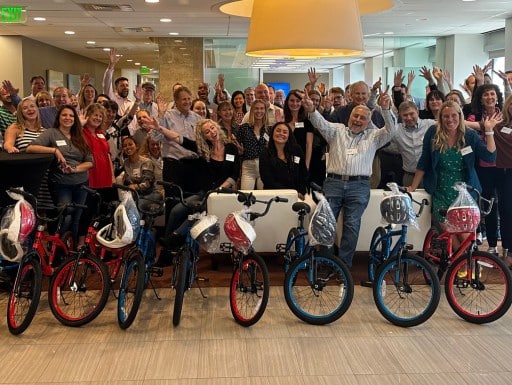 Spencer Fane participated in a Build-A-Bike® team-building game in their Denver, CO office. The event involved 85 participants from their Denver location. The group was reuniting after an extended period of remote work. The event aimed to enhance team spirit, culminating in a charitable donation to Lucky to Ride.
Spencer Fane is a law firm focusing on a collaborative and unconventional approach to legal services. By pairing business leaders with legal experts, they protect and advance both business and personal interests effectively. Committed to decisive action, purposeful execution, and flawless timing, Spencer Fane has become a go-to firm for clients who value their business-first approach.
Spencer Fane Attorneys and Staff Unite for Build-A-Bike® Event in Denver, Colorado
The Build-A-Bike® event served as a perfect catalyst for reestablishing connections and spurring camaraderie. This is because, until now, the Denver office has been fully remote. All in all, this is a law firm that places a premium on proactive decision-making and timing. The event provided an opportunity for staff members to apply these core values in a different, yet meaningful setting. The day was packed with training activities designed to foster teamwork and align the office members more closely with the firm's objectives.
The event reached its peak when the team donated the assembled bicycles to Lucky to Ride, a charity that aims to make a difference in the lives of underprivileged children. In the legal world, where much of the work is intangible, the tactile experience of building bikes brought a refreshing change. The firm's staff felt a deep sense of gratification knowing that their team efforts would tangibly impact the lives of children, perfectly aligning with the ethos of Spencer Fane to make a positive impact in the community.
We express our utmost gratitude to Spencer Fane for their invaluable contribution to the Lucky to Ride charity. The impact of your teamwork will be felt by children for years to come.
Is your office team coming back together after remote work? Celebrate unity and make a difference in your community with a team building event in Denver, CO!