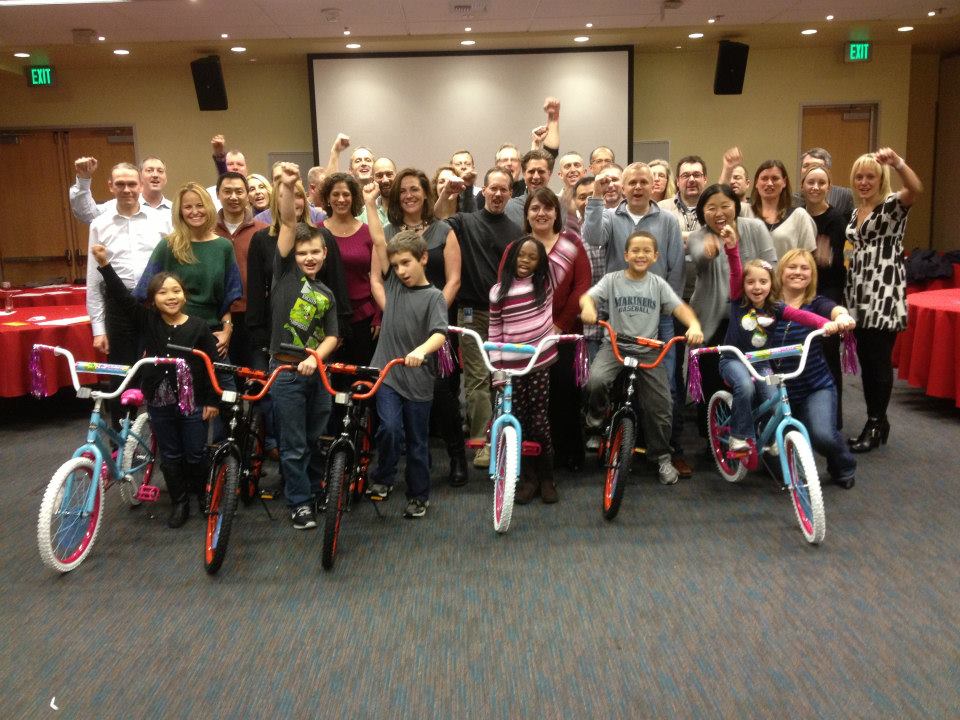 Microsoft held a corporate conference for 100 of its employees in Chicago, Illinois recently and included a Build-A-Bike charity team building workshop as a way to give the participants a high-energy experience with a philanthropic surprise at the end. Founded in 1975, Microsoft is a worldwide leader in software and employs over 90,000 people across the globe. We have partnered with Microsoft to deliver quality team building programs to many of their corporate conferences across the country.
Throughout the event, there was a lot of energy and an air of competition! The initial activities presented opportunities for the teams to get to know each other better, and to step outside of their comfort zones. The level of enthusiasm in the room was impressive! Everyone had a great time cheering for each other and showing off their creative sides.
The main portion of the program required the participants to abandon their competitiveness and work together to gain knowledge and resources in order to be successful. Skeptical and a little reluctant to share what they each had at first, eventually everyone adopted a spirit of cooperation and together they were able to build 16 bikes for kids.
The High Ridge YMCA club in Rogers Park brought 16 boys and girls to the event to be the excited recipients of the bikes at the end of the program. All the tension and struggles of learning to work more cooperatively melted away as the participants looked at the kids' faces.
"This event was so much fun for everyone! Ellen did a great job, and the kids from the YMCA were just precious!" — Julia Kim, Microsoft
Everyone likes to have fun, and everyone likes to make a difference to children in their communities. Build-A-Bike is a great way to combine the two and add a new dimension to any corporate gathering.