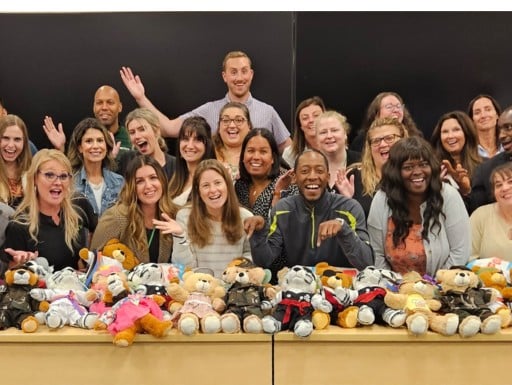 M&T Bank's Rising Leaders program hosted an engaging Rescue Bear® event at their Buffalo, NY headquarters. With 45 participants, the initiative aimed to reinforce lessons on personality types taught during earlier sessions. Hosted as part of their training days, the event was both a team-building exercise and a charitable endeavor. All in all, the event provided both educational and philanthropic value.
Founded in 1856, M&T Bank is a community-centric financial institution. They serve multiple states including New York, Maryland, New Jersey, and beyond. M&T Bank caters to a diverse clientele with a broad portfolio of services. This portfolio includes banking, investment, insurance, and mortgage offerings. They are committed to providing financial services to over 3.6 million clients while maintaining strong ties to the community.
M&T Rising Leaders Experience Rescue Bear® Training in Buffalo, New York
The Rising Leaders program at M&T Bank in Buffalo chose Rescue Bear® for its unique blend of team-building and personality temperament training. The program's participants had just concluded a session on identifying personality types, and the Rescue Bear® event served as an interactive way to cement this knowledge. Split into teams based on their specific strengths, the attendees faced creative challenges, gaining materials to build teddy bears as they successfully solved each task. The day was meaningful and filled with laughter, teamwork, and moments of learning.
In line with M&T Bank's community involvement ethos, we donated the teddy bears built during the Rescue Bear® event to the Child Rescue Coalition, an organization that focuses on supporting children who have undergone trauma. The charity was a perfect fit for the event, blending seamlessly with the bank's focus on community engagement. The donation will surely bring comfort and joy to the lives of many children and serve as a lasting reminder of the program's dual focus on professional development and philanthropy.
We would like to express our sincere thanks to M&T Bank for their meaningful contribution to the Child Rescue Coalition. Your participation in the Rescue Bear® event not only enhances your internal team dynamics but also makes a tangible difference in the lives of children in need.
Are you planning a leadership training program? Make it memorable and meaningful with our Rescue Bear® team-building charity event in Buffalo, NY.