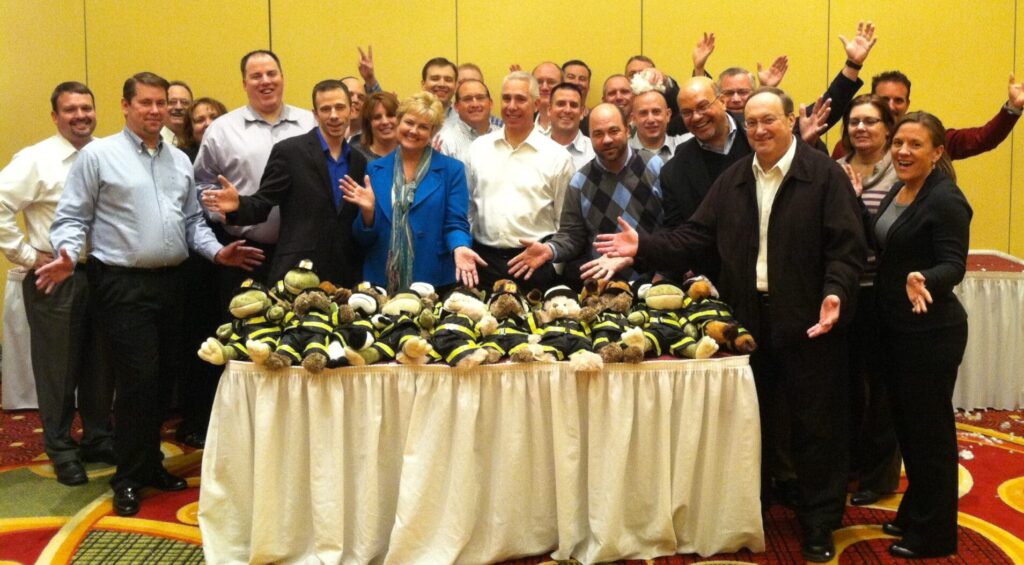 RGIS included a Rescue Bear ® team building event in their recent gathering of top company leaders near Detroit, Michigan. The group was gathered for a two-day conference as the most promising up and coming leaders in the company. RGIS is the market leader in the supply chain, inventory, insights, merchandising and optimization solutions.
Their services include but are not limited to: inventories, supply chains, compliance audits, store mapping, merchandising, resets and remodels, staffing solutions, and optimization. They deploy employees in more than 40 countries, offering their customers unsurpassed geographic coverage and unique tools and processes to ensure accuracy, reliability, and efficiency.
RGIS Stuffs Animals for Rescue Workers in Toronto.
Rescue Bear ® is a workshop that is designed to help people see the importance of matching a person with the right talent for the right role within the company.  It helps participants identify the strengths of themselves and others and rely on those strengths when under pressure.  It shows how/why "Silos" are created and how to deal with the "Silo" effect more effectively.
At the end of the workshop, the stuffed animals that are put together and dressed in fire fighter uniforms are donated to a local organization that helps kids. In this case, the donation was given to Havenwyck Children's Hospital of Auburn Hills. They will use the stuffed animals with their young patients and their families to help their stay be a little more cheerful.
"Thank you so much for all your hard work on this event! We received so many positive comments from everyone – hopefully we will be able to do more with you in the future!" –Margie Paterson, RGIS
Rescue Bear ® is a great event for giving people a chance to see how their natural strengths can help them be stronger communicators and better co-workers while giving something back to the local community. It's also just a lot of fun!
If you want information about how your team can organize a "charity teddy bear build" click this link. For a list of all of the fun team building in Detroit, click here.