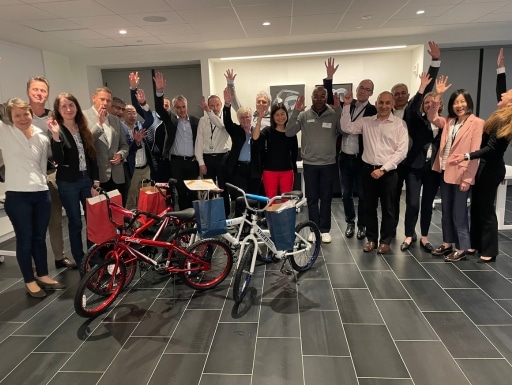 Schneider Electric partook in a Build-A-Bike® team building event for their business operations team. The event took place in Boston, Massachusetts, and aimed to foster team collaboration, strategic thinking, and community engagement. Schneider Electric's commitment to sustainability and digital transformation aligns with their purpose of empowering individuals and creating a more efficient and sustainable future.
Schneider Electric is a multinational company specializing in energy management and automation solutions. They are dedicated to providing innovative technologies and integrated solutions that optimize energy usage and increase efficiency. Schneider Electric's focus on sustainability and digital transformation drives their mission to empower individuals and organizations to make the most of their energy resources.
Schneider Electric's business operations team engages in charity event in Boston, Massachusetts
The business operations team of Schneider Electric gathered in Boston for a strategic session. To add some fun to their strategy session, they decided a Build-A-Bike® was in order. The charity bike building game allowed team members to work together, communicate effectively, and develop problem-solving skills in a fun and supportive environment.
The Build-A-Bike® event also provided an opportunity for Schneider Electric to give back to the community. The event supported the local YMCA, an organization dedicated to promoting youth development, healthy living, and social responsibility. Through this event, the team not only strengthened their bonds but also made a positive impact on the lives of others.
We give a big thanks to Schneider Electric for their participation in this charity event. Their contribution to the YMCA will not go unnoticed!
If you're looking to build up your team in a fun way, consider a charity event! Check out our full list of team building games in Boston, MA!