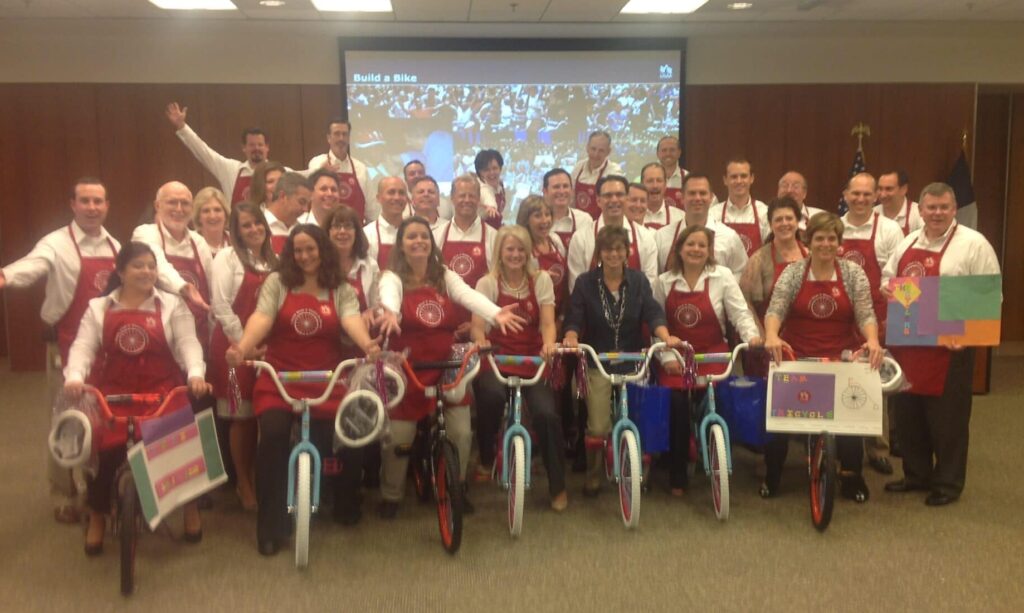 On September 27th, USAA P&C Underwriting Department held a 3-hour event at their offices in San Antonio. The event started with a 1-hour leadership session. The break out session about the three levels of listening was a huge hit.
Karen Meloni and her team were helpful making this event a success. They played the roles of judges and took those roles seriously. Tracy, one of the judges was laughing so hard she had tears in her eyes.
USAA Builds Bikes for Kids.
The Build-A-Bike ® event teaches teamwork skills through a series of challenges which the teams are to complete. The tasks encourage the teams to think outside the box to come up with solutions. While they are learning to work efficiently as a team the USAA employees were also having fun. The overall lesson is that everyone works together to reach the same goal.
In addition, it is not possible to start building your bike until everyone has their parts. This group was a little competitive so they asked for an additional bike and the first team to complete the first bike got to put another one together. They were very proud when they realized they put 2 bikes together in the same time and even before the other teams completed one bike.
If you want information about how your team can organize a "bike building team activity" click this link. For a list of all of the great team building in San Antonio, click here.
USAA chose the charity they wanted to donate the bikes to, Warrior and Family support in San Antonio. Judith Markelz was the representative that spoke at the end of the event with Michael Merwarth Sr. VP of P&C Underwriting.