A challenge many leaders face is, "How do you attract and retain talent with a workforce that is increasingly plugged into social networking as a way of life?" Corporations have to adapt both how they recruit and how they work with people once they join to suit a new generation.  More and more decision-makers are turning to philanthropic team building workshops as an incentive for intern programs or goals achieved.
Celebrate your success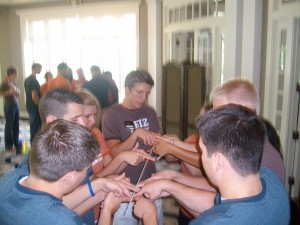 What better way to celebrate reaching a sales goal or for a manufacturing facility reaching a safety goal than with giving back to the local community? And with many philanthropic team building workshops, you get a double bang for your buck – an incentive for the achievement plus building team skills. In a recent Wall Street Journal article PricewaterhouseCoopers chairman Dennis Nally was asked how he defines talent. "Having the technical skills is important but that's almost a given these days.  Having the right softer skills in terms of being able to work in a collaborative environment, teeming with people, good communication skills, good sensitivities to cultural diversity."
With experiential team building your team goes through activities where good/bad communication or collaboration is demonstrated so any issues rise to the surface. This is a much more effective way to address team building skills than in a lecture format.
Connect employees to the company values.
Team building workshops are an important incentive for setting the tone with new employees.  Instead of reading about the company values in the employee handbook, the message is much more powerful when delivered in a team building workshop. 
Invest in your assets
In most companies, the biggest asset is the people who work there.  Like any asset, if you want a return on that asset, you need to invest in it.  Top performers have to be rewarded in order for company results to remain strong.  As the economy slowly improves across various sectors team building as an incentive helps your team feel connected to your company, your culture, your values.
Inspiration is the key. Many businesses see an inspired workforce as key to expanding. Consider adding teambuilding as an incentive to celebrate your success, connect employees to your company values, and protect your assets.  Companies have to grow again, and you need an engaged, motivated, and retained workforce to do that.
If you like this Team Building Tip, Check Out More Below:
Team Activities Reduce Conflict and Build Morale

Team activities centered around personality styles can be a great way to reduce conflict and build morale. If your team is struggling with communication or trust issues, very often it boils down to personalities – a misunderstanding of personalities.  You can identify team characteristics and open lines of communication by understanding the personality temperaments of ...

The Best Team Building Idea is to Create Energy and Enthusiasm

Looking for a fantastic team building idea or a secret to conducting a great team building event? The best piece of wisdom I have ever come across is the importance of creating and maintaining energy and enthusiasm. Often, people who organize a convention or annual event will hire a professional team building expert. They do ...

Surprise White Christmas Creates Unique Shared Experience

Last Christmas, my wife and I decided to travel up north to Montreal and Vermont so that our two kids could have a true "White Christmas" experience, and we had an absolute blast. It was a fantastic experience. We live here in the Dallas-Ft. Worth Metroplex, so we only get snow about every ...