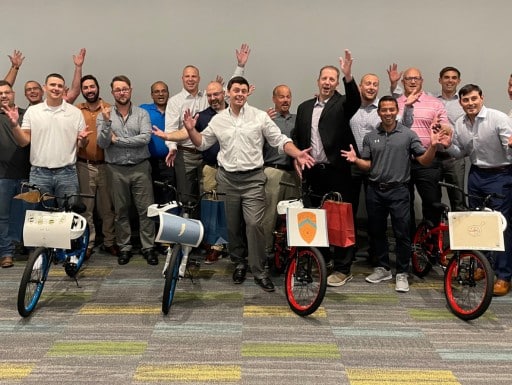 Aegion Corporation recently embraced the spirit of teamwork and community service with a Build-A-Bike® event. The event took place at their Chesterfield, MO location. Undeniably, this event changed a room of reserved participants into a group bursting with enthusiasm and unity.
Established in 1971, Aegion has consistently addressed the pressing concerns of aging water and wastewater infrastructure with its cutting-edge solutions. In essence, their unwavering dedication can be encapsulated in their motto: Stronger. Safer. Infrastructure.®
Rejuvenating Team Spirit with Build-A-Bike® in Chesterfield, Missouri
The setting was Aegion's Chesterfield campus, where a quiet group gathered for a team-building event. However, as the activities unfolded, starting with the cheer competition, a transformation was evident. The initial reserve melted away, replaced by hearty cheers, shared laughter, and newfound camaraderie.
But Aegion's team day was not just limited to strengthening internal bonds; it extended its warmth to the larger community. In collaboration with Fathers & Families, the event reached its peak with the bike building activity. The sense of fulfillment that came from contributing to a noble cause was unmistakable, reinforcing that team bonding and community service go hand in hand.
Our thanks go out to Aegion Corporation for their participation. Additionally, we give a salute to Fathers & Families for their commitment to the community. Your combined efforts have made a contribution that the children of Chesterfield won't forget.
Are you looking for a teambuilding exercise that blends fun and social responsibility? Check out our full list of team building games in Chesterfield, MO! We'll help customize the perfect charity team building event for your team.