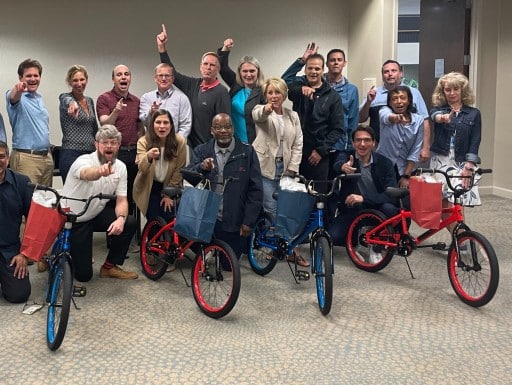 Celanese Corporation recently brought its remote workforce together in an inspiring display of unity and community outreach. With its consistent drive to make a positive impact on the community, the company partook in a memorable Build-A-Bike® event in Chicago, IL. As teams came together to assemble bicycles, they also built bridges of understanding and camaraderie. In fact, many of the team members were meeting each other for the very first time!
Celanese Corporation stands out in the global arena as a differentiated chemistry and specialty materials leader. Their pioneering solutions find applications in an array of major industries and everyday consumer products. With a presence in Dallas and a strong global workforce of around 13,000, the company posted impressive net sales of $9.7 billion in 2022. Beyond business, Celanese extends its impactful reach via The Celanese Foundation, actively making a difference in communities around the world.
Building Bikes and Bonds in Chicago, Illinois
The atmosphere at Westin Chicago Northwest was one of palpable excitement and anticipation. In total, 30 members of the Celanese team had gathered. Despite being a part of the same global family, many of these employees were meeting face-to-face for the first time. That, of course, was due to the nature of their remote work lifestyle. The Build-A-Bike® event offered them a unique platform to interact, collaborate, and form lasting bonds.
The teams dove into the challenge, working collaboratively to earn and assemble bike parts. As bicycles took shape, so did relationships, with employees sharing stories, laughs, and insights. By the event's culmination, it wasn't just bikes that were built, but also a renewed sense of team spirit and camaraderie.
Our gratitude extends to Celanese Corporation for showcasing the power of teamwork and community outreach. We also give a big thank you to the Boys and Girls Club for helping organizing the donation.
If your organization seeks to enhance team cohesion and contribute positively to the community, consider one of our team building events in Chicago, IL for your next corporate gathering!