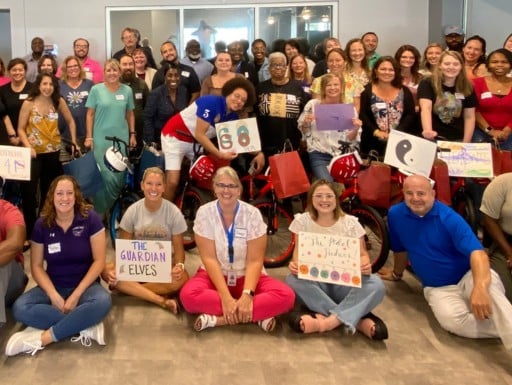 ​Polaris Tech Charter School recently collaborated on a Build-A-Bike® team building game. Not only does Polaris Tech push boundaries in educational innovation, but they also value community involvement, which was evident in their recent team-building exercise. A group of new onboarding staff, filled with anticipation for the opening of the brand-new elementary school, came together to foster camaraderie and leave a positive impact.
Polaris Tech Charter School stands as a beacon of innovative learning. Their curriculum is a harmonious blend of hands-on experiences, project-based learning, and technology-driven methodologies. With a mission to mold students into responsible leaders and community contributors, they prepare them for both collegiate pursuits and fruitful careers.
Polaris Tech Staff Showcase Unity Through Build-A-Bike® Initiative in Ridgeland, South Carolina
Set against the backdrop of their campus in Ridgeland, SC, the Build-A-Bike® event was a testament to Polaris Tech's values. Seventy eager participants from the onboarding staff, on the brink of the school's inauguration, united for this cause. Their enthusiasm was palpable, so much so that they couldn't contain their eagerness to start building the bikes.
It wasn't just about assembling bikes; it was about assembling bonds. The staff undertook challenges to earn parts for their bikes, reflecting the collaborative spirit that Polaris Tech wishes to cultivate. As they progressed, the atmosphere was electric, filled with high-fives, shared laughs, and even some shed tears. By the event's conclusion, the team not only had bikes to show for their efforts but also deeper connections amongst themselves.
A heartfelt thanks to Polaris Tech Charter School for embracing the spirit of teamwork and community service. We also extend our gratitude to Build-A-Bike® and The Leaders Institute, particularly Ashley Martinez, for orchestrating such a meaningful event.
If you want to foster team spirit while making a tangible difference, consider organizing one of our charity team building events in Ridgeland, SC!