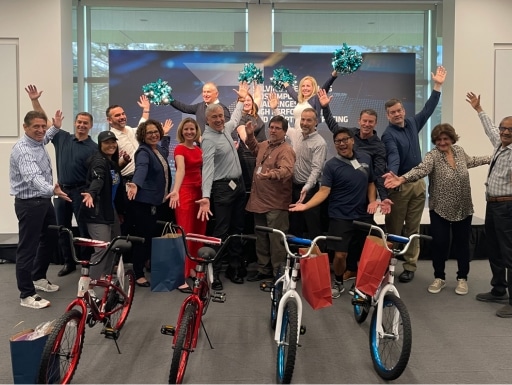 18 executives from Advanced Micro Devices, Inc. (AMD) gathered in San Jose, CA for a two-day leadership strategy offsite, culminating in a Build-A-Bike® team building game. Amidst recent acquisitions and reshuffling of their C-suite, the event offered an excellent opportunity for these executives. It allowed them to connect, strengthen their relationships, and work together to make a positive impact on the community.
AMD is a leading American multinational semiconductor company based in Santa Clara, California. The company develops computer processors and related technologies for business and consumer markets, shaping the future of computing with their innovative approach.
AMD Executives Band Together for Build-A-Bike® Event in San Jose, California
The Build-A-Bike® event, held at the AMD office in San Jose, played a pivotal role in fostering connections within the executive team. Build-A-Bike® splits a group into teams and pits them against each other, racing to finish building a bicycle the fastest. In order to receive bike parts, teams must work together to answer a series of clues. Despite the restructurings caused by recent acquisitions, the group demonstrated an upbeat attitude. Furthermore, they worked cohesively to achieve their shared goal.
The team-building exercise resulted in the assembly of four brand new bicycles. The bikes were generously donated to the Santa Clara Youth and Teen Center. This donation served as a tangible symbol of the executive team's cooperative effort, while also providing a valuable resource for the local youth and teen center.
We extend our deepest gratitude to AMD for their enthusiastic participation in the Build-A-Bike® event, and to the Santa Clara Youth and Teen Center for their ongoing dedication to supporting youth in the community.
Interested in strengthening your executive team's connections while giving back to the community? We'll help you organize a charity team building event in San Jose, CA!