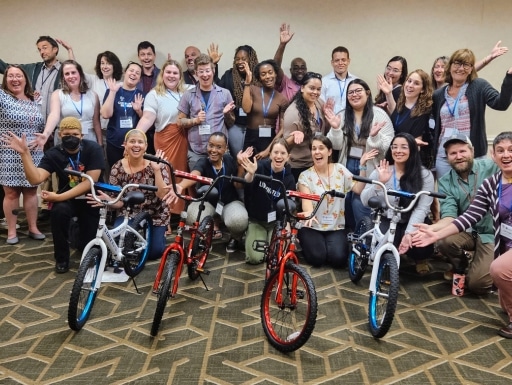 The Massachusetts Service Alliance (MSA) recently gathered for a unique Build-A-Bike® team building game in Boston, MA. With a group of thirty participants, the event aimed to enhance unity and promote the spirit of service. This event also brought together members of the team who were primarily remote workers. In this fun and interactive environment, they were brought in to share ideas and acquaint themselves with each other.
Founded in 1991, the Massachusetts Service Alliance is a renowned nonprofit organization. They strive to expand volunteerism and service in Massachusetts. Through funding, training, and support to individuals and organizations, MSA takes on pressing issues, fortifies communities, and makes the Commonwealth of Massachusetts a better place to reside.
Massachusetts Service Alliance Rallies for Build-A-Bike® Event in Boston, Massachusetts
The Build-A-Bike® event held at the Sturbridge Host Hotel in Boston presented the MSA team an opportunity to foster unity and share insights. Many of the participants had previously been remote counterparts and this occasion served as a platform to facilitate interaction and familiarization among the team members. The event involved not just the joy of meeting and connecting, but also a sense of shared achievement as they engaged in building bikes together.
While the event mainly focused on team building, it also resonated with the MSA's service-oriented mission. The bikes built by the team were destined for the TriCounty YMCA, a charity that aids under-served populations throughout Massachusetts. This donation furthered the reach of MSA's support within the community and underscored their dedication to making a positive impact.
Our deepest gratitude goes out to the Massachusetts Service Alliance. The TriCounty YMCA won't overlook their exceptional effort and generous contributions. We applaud their spirit of service and teamwork.
Does your team need a fun and engaging way to build relationships and give back to the community? Get in touch to plan a team building game in Boston, MA!