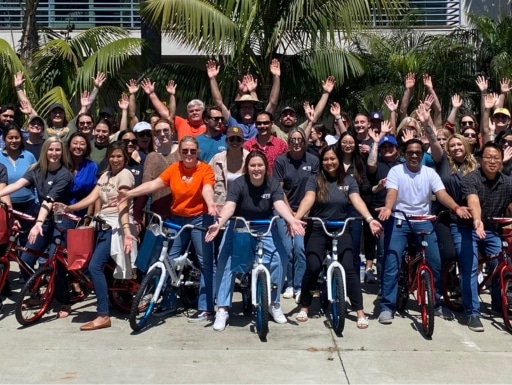 TE Connectivity gathered a group of 50 employees for a Build-A-Bike® team-building event near San Diego, CA. With participants drawn from various departments, the event served as a chance for employees to network and enjoy the California sun. Additionally, it was an opportunity contribute to a noble cause by giving back to their community.
TE Connectivity is at the forefront of enabling a connected world. They produce highly engineered connectivity and sensing products that find use in electric vehicles, aircraft, digital factories, and smart homes. For over 75 years, they have partnered with clients, bringing ideas to life that change how the world works and lives tomorrow. They are particularly noted for their reliability, commitment to progress, and the unrivaled breadth of their product portfolio.
TE Connectivity Employees Rally for Build-A-Bike® Event near San Diego, California
Held at TE Connectivity IVD Solutions in Carlsbad, the Build-A-Bike® event witnessed participation from a diverse group of employees. Despite their different backgrounds, the participants joined forces to engage in fun activities and enjoy the outdoors. Moreover, the event provided a perfect opportunity for the team to connect, collaborate, and network beyond their regular work environment.
The team-building exercise resulted in a generous donation to the Boys and Girls Club of San Dieguito. In total, they donated 10 bikes and helmets. The charity, which was the first Boys and Girls Club in the San Diego area to re-open post-Covid restrictions, was thrilled to receive the bicycles. This added another layer of joy to the event, knowing that their team effort would contribute to bringing a sense of normalcy to the lives of the children at the club.
We want to extend our heartfelt thanks to TE Connectivity for their participation and meaningful contribution. We also thank the Boys and Girls Club of San Dieguito for their unwavering commitment to supporting local children.
Looking to strengthen interdepartmental bonds while contributing to a good cause? Plan a team building charity event in San Diego, CA!