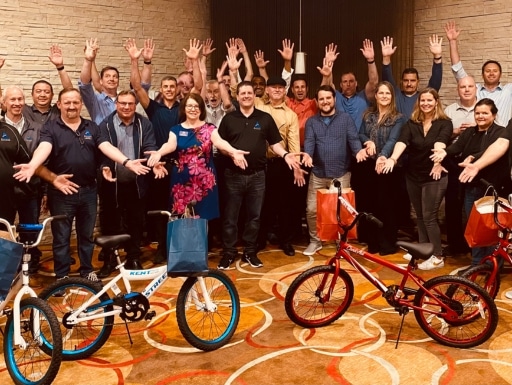 Aspire Bakeries, aiming to create an environment of mutual growth and collaboration, organized a Build-A-Bike® team building event at Embassy Suites Ontario, in Ontario, CA. Senior leaders from the company came together to solve intriguing puzzles and build bikes. At the end, the team donated the completed bikes to Foothill Family Shelter.
Aspire Bakeries is a top-tier bakery expert with a passion for crafting the highest quality and best tasting baked goods. Known for brands such as La Brea Bakery and Otis Spunkmeyer, the company is committed to its customers and employees. They exemplify a growth mindset through their tagline, "Rising Together". Aspire maintains robust relationships with major quick serve restaurants, foodservice providers, and grocery retailers. All in all, they provide bakery solutions that prioritize food safety and sustainability. With a customer-centric approach, they aim to delight consumers while bolstering partner sales and profitability.
Senior Leaders from Aspire Bakeries Embrace Teamwork at Build-A-Bike® Event in Ontario, California
The event brought together Aspire Bakeries' senior leaders, challenging them to work together to solve clues and assemble bikes. Although used to being the ones in charge, the participants quickly realized the importance of relying on others to achieve their common goal, adding a valuable learning experience to their team-building activity.
The assembled bikes were donated to the Foothill Family Shelter, a local charity organization that supports families in need. This element of community service added a sense of purpose and satisfaction to the event, reinforcing Aspire Bakeries' commitment to rising together with their local communities.
We would like to express our gratitude to Aspire Bakeries for their active participation in the Build-A-Bike® event and for their generous contributions to Foothill Family Shelter. Their commitment to teamwork and community service is commendable.
Want to put your leadership to the test with a fun, collaborative event? Check out all of our team building games in Ontario, CA!