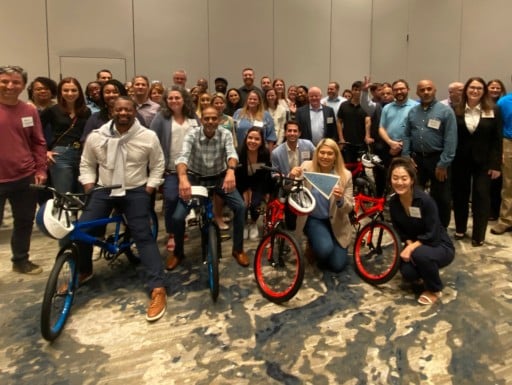 Benevis recently held a Build-A-Bike® team-building event in Atlanta, GA. With 40 participants, the company aimed to boost team morale while also giving back to the community. The event took place in collaboration with Atlanta Children's Shelter and was met with an enthusiastic response from the Benevis team.
Benevis is a Dental Services Organization headquartered in Atlanta, GA. Founded in 2002, it operates and supports 120 dental offices throughout the country. The organization is committed to providing dental care to underserved communities and assisting dentists with administrative tasks through its award-winning DentaPro dental practice management system. The acquisition of DPMS, Inc. in 2019 further expanded Benevis's non-clinical support capabilities. Renamed Benevis in 2014, the company continues to focus on improving access to dentistry by delivering top-tier non-clinical practice services.
Benevis Employees Come Together for Build-A-Bike® Event in Atlanta, Georgia
The Benevis Build-A-Bike® event was a tremendous opportunity for team members to bond and strengthen their collaborative skills. Being a service-based organization, teamwork is paramount in Benevis's daily operations. The event was not just another day at the office. It was a chance for employees to engage in a rewarding experience, fostering a sense of unity and purpose within the team. Participants left the event not only with a better understanding of their colleagues but also with the satisfaction of having contributed to a meaningful cause.
The atmosphere turned electric as the teams raced to assemble bikes, especially when representatives from Atlanta Children's Shelter explained how they would use the bikes in their Holiday House program. The news moved the entire room, motivating the teams to double their efforts. The team was both energetic and committed, embodying the company's ethos of community service. Their collective efforts resulted in several assembled bikes, ready to bring joy to children through the Atlanta Children's Shelter.
We extend our heartfelt thanks to Benevis for their generous donation of bikes to Atlanta Children's Shelter. Your contribution will undoubtedly make a difference in the lives of many children. We also appreciate Atlanta Children's Shelter for their ongoing efforts to support local communities.
Looking to engage your team in a charitable cause while fostering teamwork? Consider one of our Build-A-Bike® events in Atlanta, GA!