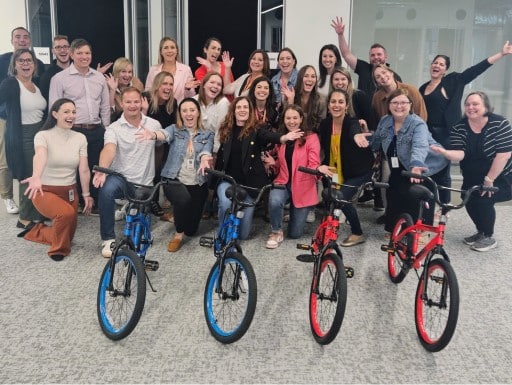 McKesson Corporation, in collaboration with CoverMyMeds, organized a Build-A-Bike® event in Columbus, OH, at the CoverMyMeds Campus. Thirty enthusiastic participants convened for a memorable wrap-up to their training. Taking place in a sprawling new edifice, the maze-like design of the building added a delightful layer of challenge.
McKesson Corporation, an American giant, dominates the pharmaceutical distribution landscape. They offer an array of health information technology, medical supplies, and care management tools. Additionally, they are credited with delivering one-third of all pharmaceuticals used in North America. Boasting a robust workforce of over 78,000 employees, McKesson stands as a beacon of healthcare solutions and innovations.
McKesson Corporation and CoverMyMeds Team Up for Build-A-Bike® Event in Columbus, Ohio
The combined strength of McKesson and CoverMyMeds employees transformed the Build-A-Bike® activity into a grand success. As a concluding segment of their training, this team-building exercise provided the attendees with a chance to unwind, bond, and indulge in some friendly competition. The vast, labyrinthine structure of the new CoverMyMeds Campus inadvertently became a part of the event. However, employees found joy in navigating its complex corridors, turning momentary disorientation into bouts of laughter and camaraderie.
Beyond the fun and games, there lay a noble cause. The Build-A-Bike® event team assembled bicycles and wholeheartedly donated them to the YMCA of Central Ohio. This initiative not only reinforced teamwork among the McKesson and CoverMyMeds members but also underscored their collective commitment to giving back to the community.
We extend our deepest gratitude to McKesson Corporation and CoverMyMeds for their dedication to community service and their generous contributions to the YMCA of Central Ohio. All in all, the impact of their donation will undoubtedly bring joy to many young individuals.
Looking for a fun, engaging, and meaningful way to enhance teamwork and contribute to a worthy cause? Consider one of our signature team building events in Columbus, OH!