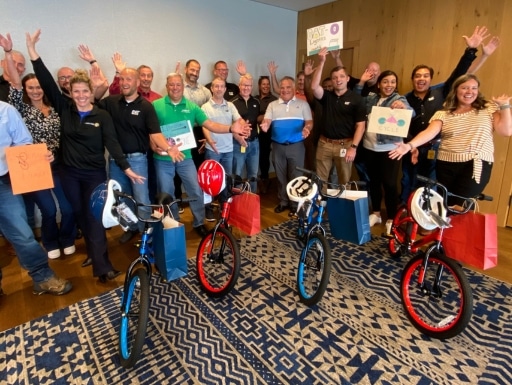 Caterpillar Inc. facilitated a Build-A-Bike® event in Baltimore, MD, to foster collaboration among team members meeting for the first time since the pandemic. In total, the event was attended by 25 participants. It allowed them to express their team spirit and dedication to community service. In the end, it created an unforgettable experience that demonstrated both unity and generosity.
Caterpillar Inc., founded in 1925, is the world's leading manufacturer of construction and mining equipment, diesel and natural gas engines, industrial gas turbines, and diesel-electric locomotives. With sales and revenues of $51.0 billion in 2020, Caterpillar makes sustainable progress possible and drives positive change globally. The company operates principally through three segments: Construction Industries, Resource Industries, and Energy & Transportation.
Build-A-Bike® Event Strengthens Team Bonds at Caterpillar Inc. in Baltimore, Maryland
The Build-A-Bike® event marked the first gathering of this team at Caterpillar Inc. since the pandemic. This added an element of anticipation and excitement for coworkers that hadn't seen each other in years. The team-building activity was incorporated into their strategy session, highlighting the strength and collaboration that define the company's culture. Quickly adapting to the challenges, the group showcased their collective skills. All in all, their skills made the event a success and reinforced their status as a unified team.
The event also underscored Caterpillar Inc.'s commitment to community service. Through their dedicated efforts, the team was able to contribute to the Bell Family Shelter, reinforcing the company's core values of giving back to the community. The combination of team building and social responsibility turned the day into a heartwarming and meaningful experience for all involved.
We express our deepest gratitude to Caterpillar Inc. for their active participation in the Build-A-Bike® event, and to the Bell Family Shelter for allowing us to contribute to their cause. Caterpillar's commitment to team building and community engagement is truly commendable and sets an inspiring example for others to follow.
Are you looking for an engaging and socially responsible team-building event in Baltimore, MD? Check out our full list of charity team building games.