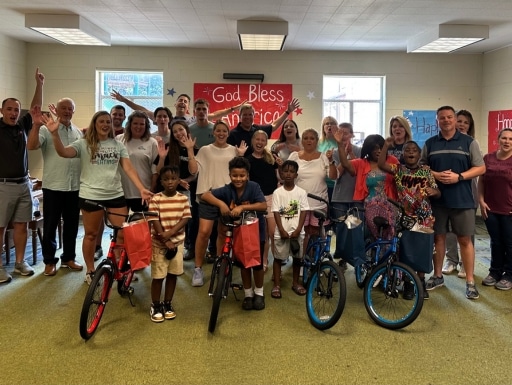 Christy Capital Management, a financial services firm, attended a memorable Build-A-Bike® team-building event in Macon, GA. The 18-person team of financial investment advisors came together in a relaxed environment, fostering unity and camaraderie while giving back to their local community.
Christy Capital Management, Inc., is a trusted provider of financial, investment advisory, and insurance services. They are licensed to operate as an insurance agency and/or investment advisory firm across various states. Their mission is to provide exceptional service and investment advice to their clients.
Christy Capital Management's Build-A-Bike® Event in Macon, Georgia
The Build-A-Bike® event offered the team at Christy Capital Management an opportunity to engage and connect outside their usual office setting. Despite their demanding professional roles, the advisors brought high energy and enthusiasm to the event. The gathering not only encouraged bonding among colleagues but also fostered a spirit of service towards their local community.
The team partnered with Campus Clubs, a Christian community development center located in Macon, GA. The most heart-warming moment of the event was when the children from Campus Clubs came to receive their newly built bikes. Witnessing the joy and excitement of the children, the team from Christy Capital Management found a rewarding and memorable end to their team-building event.
We extend our sincere gratitude to Christy Capital Management for their participation and generosity during the event. We also thank Campus Clubs for their incredible work in the community, and for providing an opportunity to bring smiles to the children.
Planning a corporate team building event in Macon, GA? Spice up the experience with our Build-A-Bike® activity! Enjoy team building while also giving back to your community!