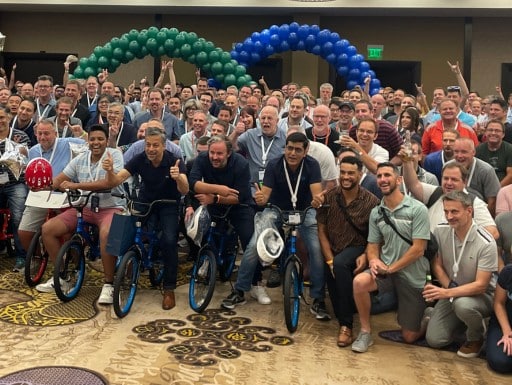 Cisco Systems, Inc. embarked on a Build-A-Bike® team building adventure at The Cosmopolitan of Las Vegas, NV. Gathering a whopping 500 attendees, the event aimed at inaugurating the FY24 Impact CISG Auxiliary Meeting in a charitable way. Hosted at the illustrious Cosmopolitan, the meet-up wasn't just about strategy and business. It also showcased Cisco's dedication to community support.
Cisco Systems, Inc., recognized on the NASDAQ as CSCO, stands as a pivotal force in the world of digital connection. Originating from Stanford University in 1984, Cisco is the mastermind behind Internet solutions essential for the formation of networks. With a worldwide staff exceeding 71,000, the company is at the forefront of routing, switching, and other advanced technologies like IP telephony, optical networking, and wireless technology. Not stopping at product innovation, Cisco is also dedicated to offering an expansive range of services. All in all, they cater to businesses of all scales and sectors.
Cisco Teams Up for Build-A-Bike® Event in Las Vegas, Nevada
The Build-A-Bike® event at The Cosmopolitan was the perfect blend of fun, teamwork, and charity. This gathering marked the onset of the FY24 Impact CISG Auxiliary Meeting, pulling together 500 of Cisco's finest from across the globe. The atmosphere at the luxurious Cosmopolitan, coupled with the enthusiastic participation, set the stage for a memorable team-building exercise. Beyond the corporate aspects, the event allowed Cisco members to bond over a noble cause, enhancing interpersonal relations and emphasizing the value of collaboration.
Building bikes was not just a fun activity but a step towards supporting the local community. The Cisco team constructed each bike for the Pearson Community Center in North Las Vegas. The thrill of the competition was evident, but the real winner of the day was the spirit of charity. As the Pearson Community Center graciously accepted the donation, the attendees were reminded of the tangible impact their efforts would make on children's lives.
We extend our heartfelt gratitude to Cisco Systems, Inc. for channeling their team building into such a charitable avenue. A special thank you to the Pearson Community Center for their unwavering dedication to the community and for being an integral part of this event.
Inspired to combine team-building with charity? Explore our unique events and make a positive impact on your next team building event in Las Vegas, NV!