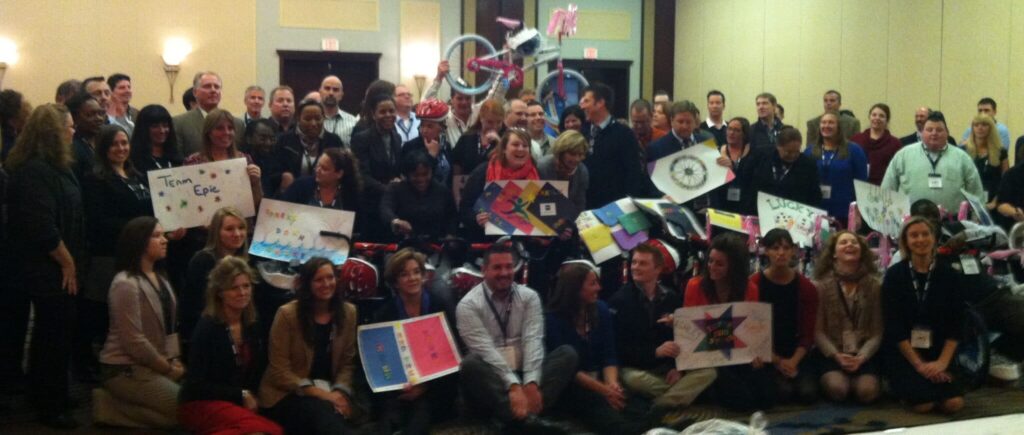 Delaware North Companies DNC) held the Food and Beverage Summit and team building in November in Buffalo, New York. Delaware North has been doing it for nearly 100 years in many of the world's most wondrous locations.
Under the leadership of the Jacobs family, Delaware North has grown into a hospitality management company with more than $2 billion in annual revenue, earning a spot on the list of the most admired hospitality management companies in the world. The company manages a number of sports and entertainment venues and gaming destinations. They also own parks, resorts, and bustling travel hubs. As a result, their hospitality management team works across the United States and around the globe.
Add Fun and Energy to Your Meeting While Giving Back to Your Community.
The DNC associates came from all over The United States to attend this summit. With meetings all week long the Build-A-Bike reg; event is exactly what the group needed to unwind.
The bike build for charity teaches teamwork skills through a series of challenges which the teams are to complete. We used a series of challenges and activities to encourage the group to collaborate to solve fun challenges. As they progressed, they began to notice that the activities were something of a caricature of behavior we can see in the workplace. So, they had to think outside the box to come up with solutions.
Marcus Story and Bradley Sax were the organizers of the event and also the judges in the activities. They had so much fun working with their team. Many of the participants came to tell me how much they enjoyed the event. One said…
"Delaware North has never done anything this great, thank you!"
Dennis Snow, formerly from Disney Institute asked if he could stay to watch for a while. He ended up staying for the entire event.) Snow was the keynote speaker going on after the event. He came over to me, shook my hand, and said "That was great".
Marcus and Bradley decided not to tell the team that 22 kids from the Boys and Girls Club of Greater Buffalo were coming to get the bikes. They wanted to surprise them in the wrap-up session at the end of the day. Marcus Story said "Thanks Abigail… the team loved it and our managers were truly touched."
If you want information about how your team can organize a "bicycle team activity" click this link. For a list of all of the team building events in New York, click here.