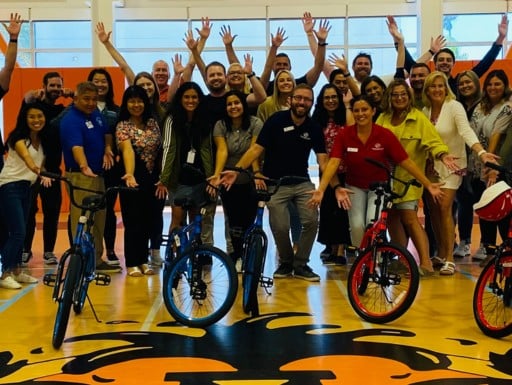 The Huntington Beach City School District (HBCSD) kicked off the new school year with an exhilarating Build-A-Bike® team-building event. The event was held in sunny Huntington Beach, CA. Overall, the aim was to strengthen the community and culture among the district's educators and staff. With 40 participants, the atmosphere was buzzing with excitement as they reconnected after the summer break, assembling bikes for children in need in the community.
The Huntington Beach City School District operates eight schools, including a preschool academy. Focused on holistic education, the district extends its reach beyond textbooks to nurture well-rounded individuals. HBCSD offers its students from TK-5 to middle schools a plethora of opportunities. In all, they range from STEAM programs to athletics, arts, and extracurricular activities. The objective is to empower students to develop a range of skills that set them on the path to future success, while also taking care of their social-emotional growth.
Huntington Beach City School District Staff Kick Off New School Year with Build-A-Bike® Event in Huntington Beach, California
The Build-A-Bike® event at HBCSD was a fantastic venue for the staff to come together, reconnect, and energize for the coming academic year. Taking place in the district's brand-new school gym, complete with a state-of-the-art sound system, participants were able to enjoy upbeat tunes as they went about assembling bikes. There was visible enthusiasm among the group, marking it as a great beginning for a new school year.
The charity aspect of the Build-A-Bike® event was a driving force behind its success. The assembled bikes were donated to children in the community. Accordingly, this gave staff members a chance to make a tangible difference in the lives of local children. The feeling of accomplishment and the joy of giving back to the community was evident on the faces of the participants. All in all, this event underscored HBCSD's dedication not only to educational excellence but also to community engagement and altruism.
We extend a heartfelt thank you to Huntington Beach City School District. The children of the community will not forget your generous donation! Additionally, we appreciate their relentless efforts in educating children in the community.
Energizing your team for the new academic year? Start off on the right pedal with our team-building events in Huntington Beach, CA!