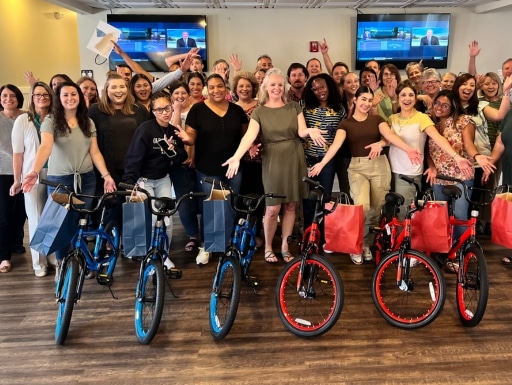 Sands Anderson, a leading legal service provider in Virginia and North Carolina, attended a Build-A-Bike® event in Richmond, VA. They designed the event for the Board of Directors to facilitate team building in light of an upcoming office move. All in all, fifty participants gathered for this special occasion, embodying the firm's rich 180-year history as the oldest continuously operating insurance company in Virginia.
Sands Anderson's attorneys offer an extensive array of transactional and litigation legal services. They serve businesses, financial institutions, governments, healthcare providers, professional service firms, individuals, and insurers across Virginia and North Carolina. Additionally, the company stands out with a remarkable 180-year history.
Sands Anderson Unites for Build-A-Bike® Event in Richmond, Virginia
The Build-A-Bike® event at Sands Anderson was not merely a team-building activity, but a significant endeavor to alleviate uncertainties related to their planned office move. Bringing together the Board of Directors, the event highlighted the company's values and traditions, fostering collaboration and unity. The gathering in Richmond, VA, served as a symbolic reminder of Sands Anderson's long-standing commitment to excellence and community.
This unique event not only reinforced the bonds among the Board of Directors but also demonstrated Sands Anderson's philanthropic spirit. The assembled bicycles were set to be donated to the Ronald McDonald House, reflecting the firm's community-focused approach. Such an effort exemplified the integration of Sands Anderson's professional ethics with a genuine concern for societal well-being.
We extend our heartfelt thanks to Sands Anderson for their generous contribution and dedication to community support. A special thank you to Ronald McDonald House for their continuous efforts to make a positive impact in the lives of many.
Planning an office move or a significant transition? Unite your team with our engaging team building events in Richmond, VA!