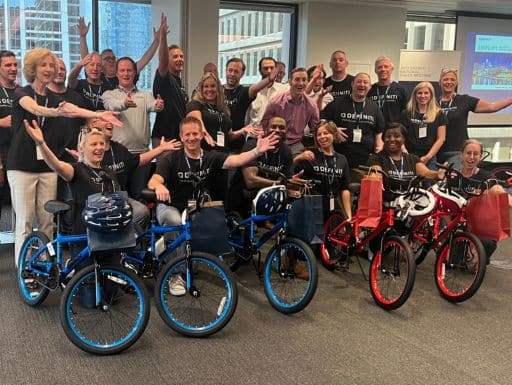 Definiti, a leader in providing comprehensive retirement solutions, recently attended a Build-A-Bike® event in Philadelphia, PA. This event saw 40 participants joining hands to gift six children new bicycles. More than just a fun event, this gathering was a chance to demonstrate that human kindness can bring hope and joy to those who need it most.
Definiti stands at the forefront of offering smart retirement solutions, ranging from 401(k) plan design and administration, compliance and actuarial consulting, to pension outsourcing, recordkeeping, and 3(16) fiduciary services. Employing hundreds of experts, Definiti redefines what's possible in the realm of workplace retirement plans.
Definiti's Build-A-Bike® Event Provides Hope for Children in Philadelphia, Pennsylvania
The Build-A-Bike® event, held at Convene in Philadelphia, PA, was more than a corporate social gathering. It was a celebration of empathy and compassion. The 40 participants assembled bicycles with love and care, focusing their efforts on children who were going through the most tumultuous times of their lives. This event was not just about building bikes, but about building faith in human kindness.
As the bikes were assembled, the atmosphere was charged with emotion and purpose. These were not just bicycles, but symbols of hope for six children who didn't have the support of parents or grandparents. Thanks to Definiti's initiative, they were reminded that they matter, and that people care.
We give a big thanks to Definiti for their participation in this event. Additionally, we thank Turning Point for Children for helping to coordinate the donation with us.
Want to build your team while making a difference? Check out our full list of charity team building events in Philadelphia, PA!