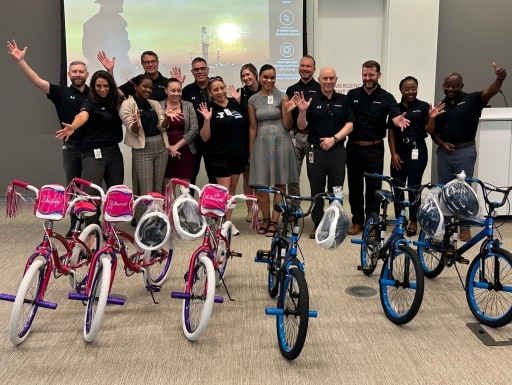 ExxonMobil recently held a Build-A-Bike® team building event in Houston, TX, involving thirty-five participants. The event brought to light some interesting dynamics on teamwork and collaboration, offering real-world insights into the importance of cooperation.
ExxonMobil, one of the world's largest publicly traded international oil and gas companies, leverages innovation and technology to deliver energy to a growing world. They explore for, produce and sell crude oil, natural gas and petroleum products.
ExxonMobil employees learn about collaboration at Build-A-Bike® event in Houston, Texas
ExxonMobil's Build-A-Bike® event served as a lively gathering for its employees. The participants were divided into three teams, two of which chose to work together, while the other decided to work alone. This resulted in an intriguing scenario that demonstrated the value of collaboration in achieving goals efficiently.
Despite the team's size and unique approach to the event, their spirit and energy were admirable. The event served as a real-life application of teamwork, emphasizing the impact of collaboration on overall performance. Even though one of the teams chose to work solo, everyone still completed their bikes in the end. The overall experience with ExxonMobil was highly positive, their team comprising warm and amicable individuals.
We extend our sincere appreciation to ExxonMobil for their enthusiasm and commitment during the Build-A-Bike® event. We'd also like to express our gratitude to the YMCA for their consistent dedication to community service.
Planning a team building activity in Houston, TX? Let us bring the Build-A-Bike® experience to your workplace and reinforce the value of collaboration among your team members!