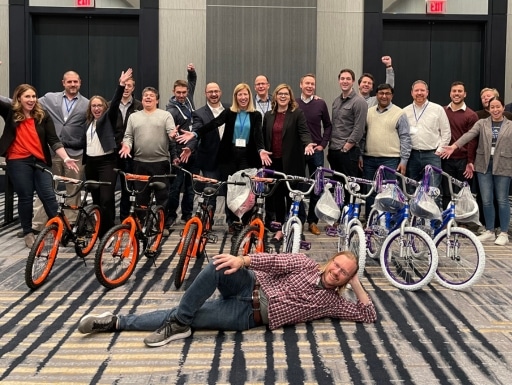 PayIt attended a Build-A-Bike® team building event in Kansas City, MO. The event served as both an exciting wrap-up activity for their meeting, and a charitable gesture for the local community. Through the event, PayIt provided eight bicycles to Operation Breakthrough, bringing joy to underprivileged children and their families.
PayIt is a prominent platform used by government agencies to facilitate resident transactions, providing an efficient and user-friendly experience. The platform's features include an integrated back-office system, faster revenue collection, and improved efficiency. PayIt's GovWallet™ allows residents to store transaction history, receipts, and payment methods for multiple agencies. Serving more than 80 million residents in North America, PayIt has received numerous awards for its contribution to GovTech.
PayIt Gives Back to Community with Build-A-Bike® Event in Kansas City, Missouri
The Build-A-Bike® event was an exciting conclusion to PayIt's group meeting in Kansas City, MO. The team enjoyed the opportunity to engage in some light-hearted fun while also contributing to a cause they deeply care about – Operation Breakthrough. This strong commitment to the community underscores PayIt's dedication beyond its business goals.
Operation Breakthrough is an after-school and summer program serving over 1000 children in Kansas City's low-income areas. PayIt chose them as the beneficiary for this event. Eight bikes were assembled and donated, destined for children selected by company leaders. These bikes not only represent a gift to the children but also a life lesson in sharing and community. In spite of the harsh weather conditions, representatives from Operation Breakthrough graciously collected the bikes, reaffirming the valuable partnership between them and the PayIt group.
We sincerely thank PayIt for their dedication and commitment during the Build-A-Bike® event. A special note of gratitude to Operation Breakthrough for their unwavering work in making a positive difference in the lives of Kansas City's children.
Is your team ready for an unforgettable team building event in Kansas City, MO? Get in touch with us and plan your own charity event today!