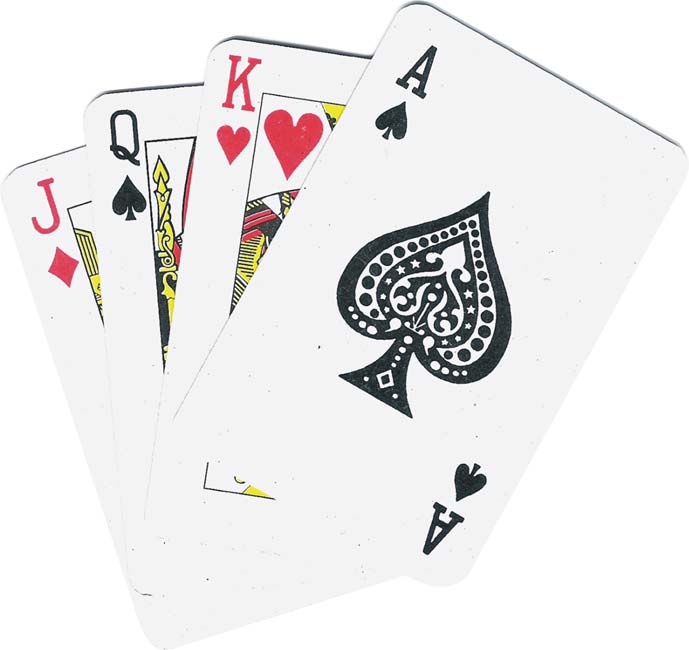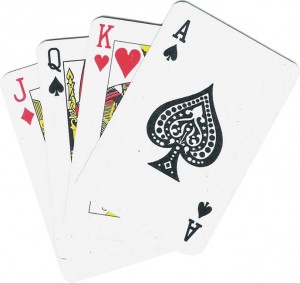 Here is a free team building activity that can insert a ton of energy into your meeting right as you get started. If you have a big group that you need to organize into smaller teams (or tables), The Playing Card Shuffle is a great way to do it. To setup the room in advance, place a single playing card from a deck of cards on each table (or location where you want each small group to arrange themselves). The best technique is to place the card into stanchions on each table if you want it to be easy for the teams to organize themselves (important in big groups). Alternatively, you can just place the card face down on each table for smaller groups in order to make it more challenging. *For really big groups, I like to put all of the red cards on one side of the room and black cards on the other. You can also put all of the spades in one-quarter of the room, clubs in another, etc.
The way that you organize the cards can make the activity more challenging or more simple. The larger the group, the more simple you want to make the activity, so you'll probably want to organize the cards in order from Ace to King and possible separate them by color or suit. In small groups, you'll probably want to mix the numbers and suits up to make it more challenging.
As each participant walks into the room, you can either distribute random cards to each participant or set up stations around the room where participants can draw a card. My favorite distribution technique is to spread the cards out as a Las Vegas dealer might on the edge of the stage and ask everyone to come up to the stage and "pick a card." The larger your group, the more stations you'll want to create.
After each participant has their individual card, you can have a lot of fun getting the participants to their correct table or station. These are some ways to get them moving quickly.
Playing Card Shuffle Team Building Activity Instructions
(Easiest) Just say, "Okay, go find your team" and let them figure out where to go and how to find their group.
If you've separated the colors or suits, give the participants one direction that lets them know which side of the room to go to.  For example, "If you have a red card move to this side of the room, and if you have a black card, move to the other." Then, once the movement dies down a little, tell them to find their group.
If you want to make sure that you have equal numbers of people on each team, place some Jokers or other "Wild" cards into the stacks, and then have all of the Wild Cards come to you.  You can now insert them into groups who have too few people.
Remember that the fewer instruction that you give, the more active they will become.  The key to getting energy up in an activity is to get the group moving or doing something right away, so this will work like a charm.  You just want to make sure that whatever you are doing immediately after this setup is pretty fun and action-packed.