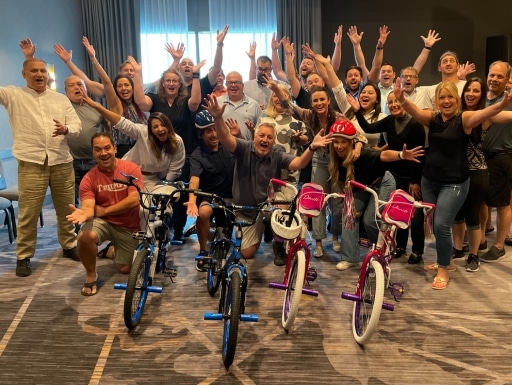 A spirited team from Honeywell International Inc. convened in Austin, TX for an engaging Build-A-Bike® team building activity. With a total of 30 participants from various locations, the event marked their regional sales meeting with an energizing twist. The gathering aimed to foster camaraderie and bring a sense of accomplishment to the team. At the same time, it also served to make a meaningful contribution to a local charity, Helping Hand Home.
Honeywell International Inc. is a globally recognized American multinational conglomerate corporation. Based in Charlotte, North Carolina, Honeywell operates across four main business sectors: aerospace, building technologies, performance materials and technologies, and safety and productivity solutions. Their diversified operations reflect a commitment to innovation and progress across multiple industries.
Honeywell Team Comes Together for Build-A-Bike® Event in Austin, Texas
Despite the full day of professional commitments, Honeywell's team brought an air of enthusiasm and competitive spirit to the Build-A-Bike® event. As a part of their regional sales meeting, team members from various locations came together in Austin. The event provided the perfect opportunity to foster team spirit and collaborative skills, all while serving a good cause.
As the competition unfolded, Honeywell's donation to the Helping Hand Home became a surprise gift for four new children moving into the home. The excitement of the event, combined with the knowledge of their contribution's direct impact, amplified the team's energy and commitment to the challenge. The result was not only an invigorating team-building event but also a tangible contribution to the local community.
We are sincerely thankful to Honeywell for their invaluable contribution and participation in the Build-A-Bike® event. Our appreciation also extends to Helping Hand Home for their tireless efforts to support and provide for children in need.
Planning a regional sales meeting? Add a unique twist with one of our engaging team building events in Austin, TX!