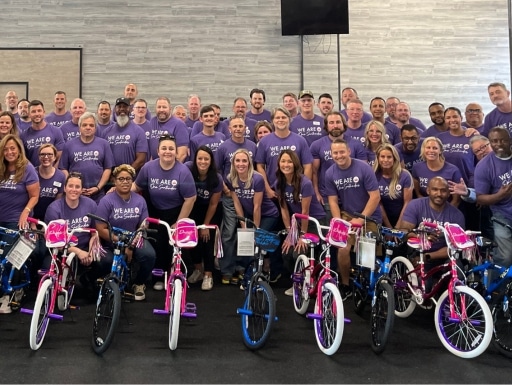 Santander Consumer USA (SC), a renowned automotive finance company, organized a Build-A-Bike® team building event in Dallas, TX. The gathering, attended by 75 members of their sales team, was all about fostering unity and boosting morale, all while making a positive impact on their local community. This high-energy event was held at the Marriott Plano Legacy Town Center.
Santander Consumer USA helps consumers secure financing for new and used vehicles, enabling them to commute for work, school, and other life necessities. The company prides itself on delivering superior service, supporting customers' financial well-being, and actively participating in the communities they serve. Through volunteer service and financial backing, SC aids organizations making sustainable, positive impacts. Moreover, they strive to provide an inclusive workplace where employees can grow and contribute to rewarding and fulfilling work.
Santander Consumer USA Inspires Teamwork with Build-A-Bike Event in Dallas, Texas
SC's Build-A-Bike® event offered a platform for both divisions of the sales team to collaborate during their corporate conference. This high-energy event fostered a competitive spirit while strengthening bonds within the team. The event was not just about building bikes but also about building stronger interpersonal relationships and a more unified team. The high-spirited environment at the Marriott Plano Legacy Town Center further amplified the camaraderie and engagement among the employees.
In addition to team building, the event served a noble cause. The assembled bikes were donated to the Boys & Girls Club of Collin County, aligning with SC's commitment to community service. The event became more meaningful, knowing their efforts would bring joy to local children, making it a truly fulfilling team-building exercise.
We extend our sincere gratitude to Santander Consumer USA for their active participation and generous contribution to the Boys & Girls Club of Collin County. Their commitment is making a real difference in the community and brightening the lives of local children.
Are you planning a corporate conference? Spice it up with our engaging and socially responsible team-building events in Dallas, TX!