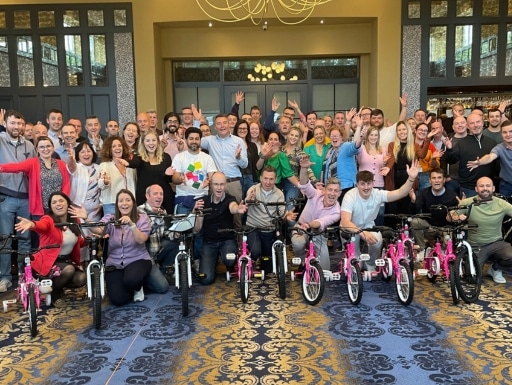 In a testament to their commitment to team-building and community service, Horizon Therapeutics attended a Build-A-Bike® event at the Faithlegg House Hotel in Waterford, Ireland. A total of 125 participants came together for a day of collaboration and fun. In the end, their efforts culminated in the donation of 18 bikes to local charity, Barnardos.
Horizon Therapeutics believes in the power of science and compassion to transform lives. The company is driven by a dedication to delivering innovative medicines to those living with rare, autoimmune, and severe inflammatory diseases. Horizon Therapeutics measures its success by the lives they touch, change, and work to help save.
Horizon Therapeutics: Building Bikes and Bonds for a Good Cause
Following significant changes and team expansion, Horizon Therapeutics used the Build-A-Bike® event as a platform for team bonding. The participants brought a high level of energy and team spirit to the day's activities. Despite the competitive atmosphere, the teams showcased exemplary teamwork and cross-collaboration. They quickly earned their bike parts and aided each other in the bike building process.
This team-building event had a tangible outcome: the donation of 18 new bikes to Barnardos, a charity based in Waterford. This significant contribution underscores Horizon Therapeutics' commitment to making a positive impact within their local community, all while fostering a stronger, more unified team.
We extend our heartfelt gratitude to Horizon Therapeutics for hosting a Build-A-Bike® event and for their generous donation to Barnardos. We also commend Barnardos for their dedicated work supporting children in need.
If your team is looking for a fun, collaborative way to give back to the community, consider planning a charity event in Waterford, Ireland!