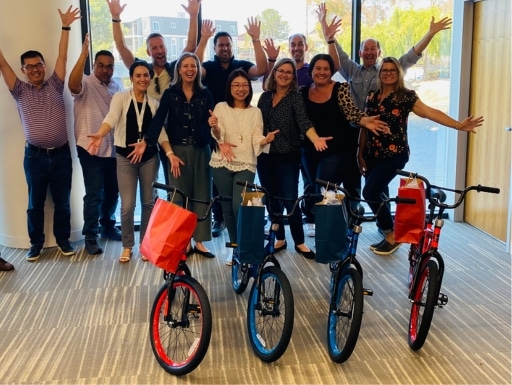 In an effort to foster teamwork and contribute positively to their local community, Treadwell Therapeutics, Inc. hosted a Build-A-Bike® event in San Francisco, California. Altogether, fifteen participants from the company attende the event. All in all, it resulted in the donation of four new bikes to kids in need via the Peninsula Family YMCA.
Treadwell Therapeutics is a clinical-stage biotechnology company dedicated to developing novel therapeutics for highly aggressive cancers. The company's robust, internally developed pipeline includes novel small molecule drugs in single agent and combination studies.
Treadwell Therapeutics Enhances Teamwork and Contributes to Community via Build-A-Bike® Event in San Francisco, CA
By adding a Build-A-Bike® event to their schedule, Treadwell Therapeutics brought its team members together for a day of fun. The competitive setting gave participants a chance to build teamwork outside of the usual office setting. The participants initially aimed to solve the event's clues individually but soon realized the importance of collaboration. Learning by doing, they understood that reaching out to other groups accelerated their progress and effectiveness.
This team-building event had a community-oriented outcome: the donation of four new bikes to the Peninsula Family YMCA, for the benefit of children in need. This generous gesture underscored Treadwell Therapeutics' commitment to making a positive impact in their local community.
We extend our sincere thanks to Treadwell Therapeutics for choosing to host a Build-A-Bike® event and for their generosity towards the Peninsula Family YMCA. We also wish to acknowledge the YMCA for their ongoing efforts to support families and children in need.
Looking to enhance team cooperation and make a difference in your community? Engage your team in our charity team building games in San Francisco, California!