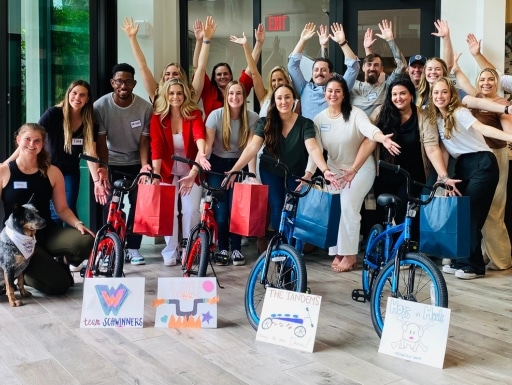 Ignite Media Group, a passionate and dynamic digital marketing firm, held a Build-A-Bike® team building event in San Diego, CA. Comprised of 30 enthusiastic participants, the goal was to foster a sense of unity and teamwork. This event was also a reward for experiencing significant growth in their first year of business. The event was a resounding success, leaving all participants in high spirits.
Ignite Media Group specializes in performance marketing, continually evolving their strategies to connect with consumers effectively. They offer a comprehensive suite of digital marketing solutions, from creative design to analytics and optimization. Having collaborated with numerous Fortune 500 brands, Ignite Media Group has a proven track record. All in all, they're consistently striving to amplify performance, engagement, and ROI for various brands.
Ignite Media Group Strengthens Team Bond Through Build-A-Bike® Event in San Diego, California
In the scenic locale of Carlsbad, Ignite Media Group chose the Build-A-Bike® event as their means to strengthen their rapidly expanding team. With a primary goal to build a more cohesive team while indulging in some fun, the setting was in sunny San Diego. The day was marked by enthusiasm, collaboration, and the shared joy of creating something meaningful together.
The essence of the event was not just about team-building; it was also about giving back. As a testament to Ignite Media Group's commitment to community and social responsibility, the bikes assembled during the event were donated to Walden Family Services. Walden Family Services has been instrumental in supporting numerous families and individuals, making a marked difference in their lives. The joy of the event was not just in the team's bonding, but also in the knowledge that their efforts would bring smiles to many faces.
We extend our heartfelt gratitude to Ignite Media Group for their commitment and generosity. Our thanks also go to Walden Family Services for their relentless work and dedication to the community.
Looking to boost your team's morale and foster unity? Dive into one of our Build-A-Bike® team building events in San Diego, CA, and make a difference while you're at it!