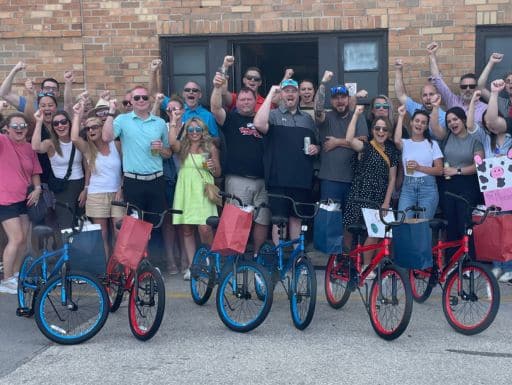 HealthFuse, the industry's leading revenue cycle vendor management company, attended a Build-A-Bike® team building event in Milwaukee, WI. With forty participants, this yearly gathering aimed to foster stronger bonds among the team members and give back to the community. The event was held at the beautiful Southshore Terrace in Milwaukee, bringing team members together for collaboration and camaraderie.
HealthFuse excels in revenue cycle vendor management, serving as the #1 company in the industry. By employing technology, analytics, research, and performance management, HealthFuse assists hospitals in building, operating, and optimizing their revenue cycle vendor management office. Their commitment to enhancing healthcare financial systems sets them apart as a vital player in the field.
HealthFuse Team Comes Together for Build-A-Bike® Event in Milwaukee, Wisconsin
The Build-A-Bike® event was a centerpiece of HealthFuse's yearly get-together, aiming to strengthen internal connections and enhance teamwork. The scenic location of Southshore Terrace offered an inspiring setting for collaboration. With bikes shipped to the office, participants were eager to engage in a fun, hands-on activity that would not only build relationships but also contribute positively to the community.
This engaging activity was more than just a team-building exercise; it was a gesture of giving back. At the end of the event, the team donated the assembled bikes to the Ronald McDonald House. The participants, who were enthusiastic about getting to know one another better, displayed true teamwork.
We extend our heartfelt thanks to HealthFuse for their commitment to fostering team connections. Their contribution to the community won't go unnoticed. We also express our gratitude to Ronald McDonald House for their relentless efforts to provide comfort and care to those in need.
Looking to strengthen your team's connections and contribute to the community? Explore our charity team building events in Milwaukee, WI, and make your next gathering a memorable one!