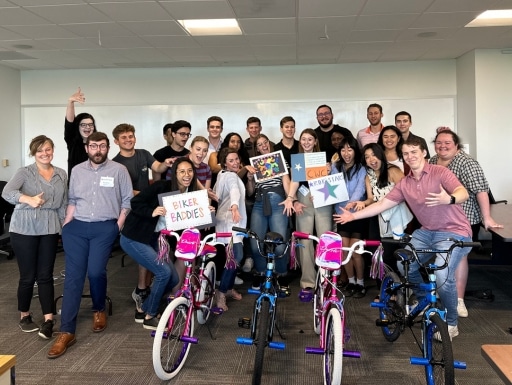 Global consulting firm Kalypso recently brought together a group of interns for a Build-A-Bike® team building event at their Arboretum Blvd office in Austin, TX. The event, held as part of the interns' onboarding week, was characterized by an atmosphere of positive energy and enthusiasm.
Kalypso is a firm that redefines the traditional approach to consulting. It helps clients revolutionize how they discover, create, produce, and sell products using a digital value chain. Their services range from strategy and change management to data science, artificial intelligence, and managed services. Born from a desire to bring about change in the consulting landscape, Kalypso joined Rockwell Automation in 2020. Together, they're fortifying their abilities to address their clients' pressing needs and ambitious goals across the value chain. With a team of scrappy, rebellious innovators, Kalypso takes its role as a trusted advisor to the world's product development, manufacturing, and supply chain leaders seriously.
Kalypso Interns Build Bikes and Team Spirit in Austin, Texas
Kalypso's Build-A-Bike event formed part of a week-long onboarding process for a group of newly graduated interns. Despite taking place on a Saturday, there was a palpable sense of excitement and readiness to build bikes. The Gen-Z interns demonstrated their commitment and enthusiasm to make a positive impact during. All in all, the event was a resounding success.
The event's bike-building initiative provided a meaningful donation to the Texas Baptist Children's Home. Through their contributions, the interns demonstrated not just their capacity for teamwork, but also their community spirit and readiness to give back.
We'd like to thank the dedicated interns at Kalypso for their active participation in the Build-A-Bike® event and their generous contributions to the Texas Baptist Children's Home. Additionally, we're excited to see such enthusiastic and community-focused young professionals entering the industry.
Got a group of interns that could use a lesson on team building? Check out our fill list of team building events in Austin TX!