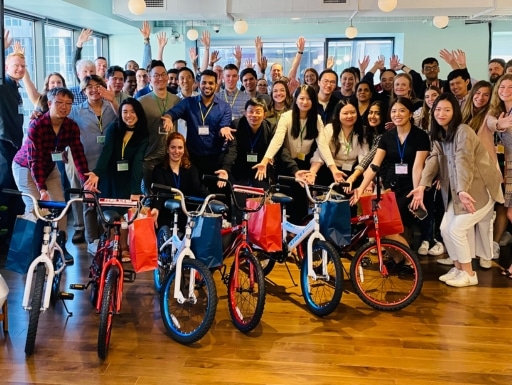 FinTech company Addepar recently held a successful Build-A-Bike® team building event in New York, NY. The gathering, which was part of a three-day conference for new hires, aimed to offer an engaging and fun experience while benefiting local children in need.
Founded a decade ago, Addepar aims to foster a transparent financial system where everyone can understand their assets' performance and location at any time. Today, they offer real-time reports and insights to wealth managers, facilitating better investment decisions for improved financial outcomes. With clients and wealth managers in over thirty global markets, Addepar is making a significant impact in the financial sector.
Addepar Builds Team Spirit and Bikes in New York, New York
Addepar's Build-A-Bike® event was a key part of a welcome retreat for new hires. Over the course of three days, these employees were learning about their personality types and how to apply them in the workplace. The team-building event, which involved building bikes, offered a fun break from the learning sessions while still promoting collaboration and team bonding.
The finished bikes were donated to Children of Promise NYC, a charity supporting children with an incarcerated parent. Additionally, the bikes went to children who have demonstrated academic excellence. The donation will serve both as a reward for their dedication during the past school year and as an incentive for others to strive for success in the coming academic year.
We extend our gratitude to the dedicated team at Addepar for their participation. They've made a difference in the lives of children served by Children of Promise NYC. Your commitment to team-building and community support is truly commendable.
Need a fun event to instill lessons of teamwork in your employees? Consider one of our team building games in New York, NY!