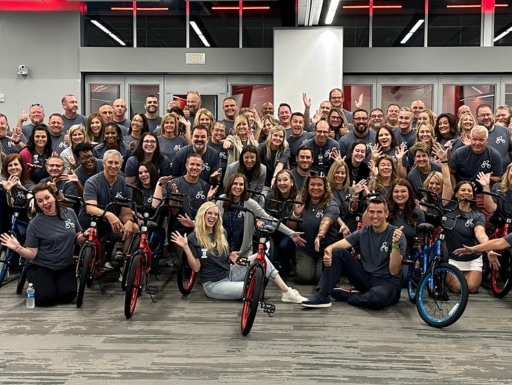 Lee's Summit R-7 School District held a dynamic Build-A-Bike® team building event in Lee's Summit, MO. The event saw 130 principals and school administrators come together under a common goal. Naturally, that goal was fostering unity and enhancing leadership skills while contributing to a charitable cause.
Lee's Summit R-7 School District is recognized both statewide and nationally as a top educational system. It's located in the Kansas City metropolitan area, serving around 18,000 students. The district prides itself on offering quality educational programs with a commitment to the success of all students. With involved parents and a supportive community, the district offers excellent educational opportunities. Furthermore, it provides a caring learning environment across its numerous schools.
Principals and Administrators Gather for Build-A-Bike® event in Lee's Summit, Missouri
The Build-A-Bike® event saw 130 school principals and administrators from various levels within the Lee's Summit R-7 School District assemble together. This annual gathering serves as an opportunity for these leaders to undertake training and engage in personal development activities. The energy among the group was palpable, as participants got a rare chance to spend time with their colleagues who they don't often see throughout the year.
In addition to leadership development, this event emphasized the district's commitment to community service. All assembled bikes were donated to Social Services for Lee Summit, a local organization working diligently to support the community. This meaningful contribution further elevated the spirit of the event and added to the overall sense of achievement among the participants.
We extend our warmest thanks to Lee's Summit R-7 School District for their enthusiastic participation and their generous contribution to the local community. We also appreciate the tireless efforts of Social Services for Lee Summit in supporting those in need.
Want to create an unforgettable experience? Contact us to learn more about our charity team building events in Lee's Summit, MO!