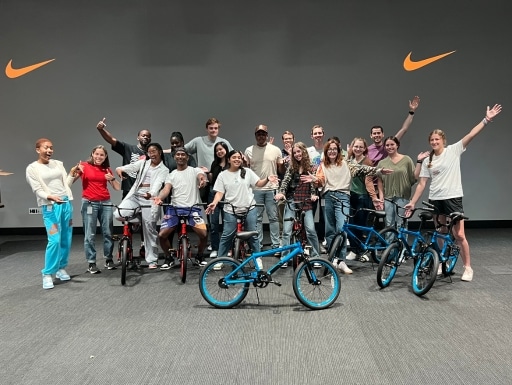 Nike, the global leader in sports apparel, attended a Build-A-Bike® team-building event in Beaverton, OR. They had a dual aim of fostering teamwork among their interns and giving back to the community. This event involved sixty enthusiastic participants and marked a day of growth and unity for the team, all while contributing to a meaningful cause.
Nike is a world-renowned brand synonymous with sports and athletics. With its innovative products and inspiring message, Nike has a long history of encouraging everyone, regardless of age or skill level, to participate in physical activities. The company demonstrated their commitment to teamwork and community outreach with this recent team-building event.
Nike Interns come together for Build-A-Bike® event near Portland, Oregon
The Build-A-Bike® event brought together sixty Nike interns in Beaverton, OR. This provided an excellent platform for the interns to develop their teamwork and problem-solving skills. Naturally, these skills are critical for their personal and professional growth within the company. As the day progressed, a spirit of camaraderie enveloped the participants, creating an environment of synergy and unity.
Aside from its focus on team-building, the event also underscored Nike's commitment to community service. The bikes assembled by the interns were donated to the Big Brothers Big Sisters Portland, a charitable organization that provides mentorship to children facing adversity. The joy of giving back to the community amplified the overall spirit and success of the event, reflecting the company's ethos of encouraging social responsibility.
We extend our sincerest thanks to Nike for their commitment to team-building and their impactful contribution to the local community. Our gratitude also extends to Big Brothers Big Sisters Portland for their crucial role in mentoring and supporting children in need.
Are you planning a team-building event in Portland, OR? Get in touch with us today! We'll help you build your team while giving back to the community.