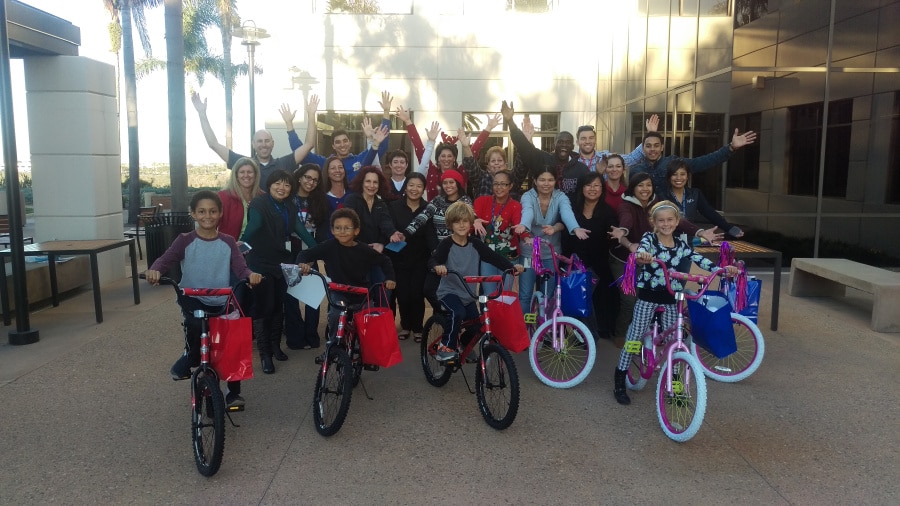 Lytx hosts Build-A-Bike ® Event: Lytx, a company which provides technology and analytics for transportation companies, hosted a Build-A-Bike ® team building event in San Diego, CA just before the holidays. Most of the group of 30 participants have been working for Lytx for less than a year, so they wanted to find a way to bring the group together and give back during the holiday season. Since the event was outside in their courtyard, a number of other employees in the company heard what was going on and wanted to be part of the fun!
This group had a great time working together to solve the clues, which eventually led to acquiring the bike parts. It was a great way to end the year and get ready for the holidays. The YMCA graciously accepted the bikes, and the kids who came were able to put on their helmets and take the bikes for a test ride in the courtyard area. Everyone had a great time!
Lytx Hosts Build-A-Bike ® Team Building Event in San Diego, California
This event was held on Friday, December 18 at Lytx's office in San Diego, California. This office is located at Lytx, 9785 Towne Centre Drive, San Diego, CA 92121. The event was taught by Chris McNeany, who is The Leader's Institute ® senior instructor based in Los Angeles, California. Chris leads team building event in Los Angeles, San Diego, and all of Southern California.
| | |
| --- | --- |
| | Chris McNeany is a Vice President and Instructor for the The Leader's Institute®. He is based in Los Angeles, California, but he teaches classes in San Diego, San Francisco, Las Vegas, and Seattle as well. |
For details about Team Building in San Diego, California, click here. You can schedule Chris for your team building event. Just make a request when speaking to one of our account managers. Call us toll-free at (800) 872-7830 for details!