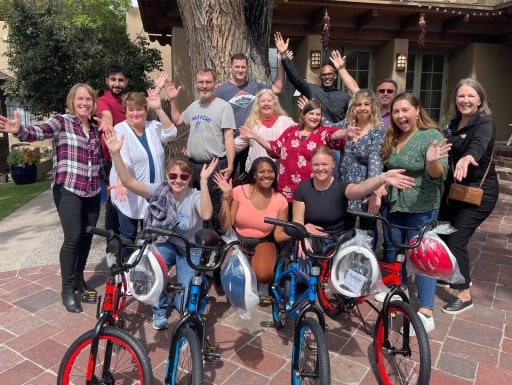 NLC Mutual Insurance Company convened in Santa Fe, New Mexico, for a special Build-A-Bike® team-building event. Attended by 15 employees, the event aimed to promote team cohesion. Especially important within this company where the majority of the staff work remotely! The gathering was set in the luxurious La Posada de Santa Fe Resort. It ultimately resulted in a generous donation of four bicycles to the Santa Fe Indigenous Center.
NLC Mutual Insurance Company was founded in 1986 as a member-owned captive reinsurance organization. Created with the assistance of the National League of Cities, NLC Mutual is now a dynamic pool comprising 28 state league-sponsored risk pools. The company provides a range of insurance coverages. It includes liability, property, and workers' compensation to thousands of cities, towns, and villages across the United States.
NLC Mutual Employees Come Together for Build-A-Bike® Event in Santa Fe, New Mexico
NLC Mutual's Build-A-Bike® event was an opportunity for its remote workforce to gather in person and engage in team-building activities. Hosted at the La Posada de Santa Fe Resort, the team worked together to assemble bicycles. Not only that, the event fostered both communication and collaboration among employees who usually connect only digitally. The scenic resort in Santa Fe provided a peaceful backdrop, which further enhanced the event's effectiveness and allowed team members to focus on their collective goals.
The Build-A-Bike® event concluded with NLC Mutual donating four assembled bicycles to the Santa Fe Indigenous Center. This charitable component added a layer of fulfillment and meaning to the team-building activities, tying into the company's ethos of community support and engagement. The Indigenous Center will distribute the bikes to children in need, thereby amplifying the positive impact of NLC Mutual's team-building efforts within the local community.
We extend our heartfelt gratitude to NLC Mutual for their generous donation to the Santa Fe Indigenous Center. A big thank you also goes to the center for their continued efforts in bettering the lives of the indigenous community in Santa Fe.
Planning a corporate gathering in Santa Fe, NM? Elevate your team-building experience while making a difference in the community with one of our exciting events!