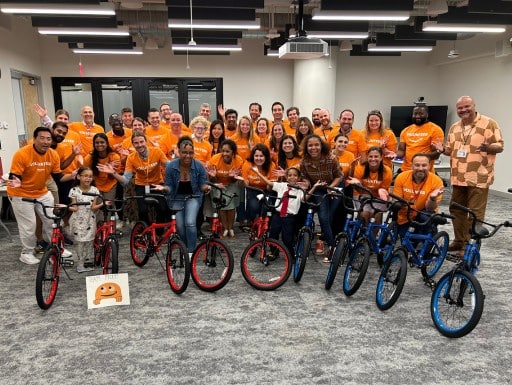 Amazon brought together over 70 advertising executives and managers in New York City. The occassion? None other than a Build-A-Bike® team-building event! It served as part of their September Global Month of Volunteering. Hosted at Amazon's New York offices, the event successfully blended competition and collaboration. In an emotional highlight, two children, accompanied by their moms, were able to receive their newly built bikes in person. In fact, these two children who were prior-generation members of the Kips Bay Boys and Girls Club.
Amazon is a global technology giant, guided by four key principles: customer obsession, passion for invention, operational excellence, and long-term thinking. While possessing the scale and capabilities of a large corporation, Amazon maintains the spirit and heart of a smaller entity, always eager to innovate and make impactful decisions.
Amazon Teams Up for Build-A-Bike® Event in New York, New York
The Build-A-Bike® event was more than just a regular team-building activity for Amazon. It was a part of the company's broader Global Month of Volunteering initiative, bringing together advertising executives and managers. Through collaborative and competitive tasks, over 40 team members learned the fine balance between competition and cooperation. The event showcased Amazon's commitment to both employee development and community outreach.
What made this event truly special was its emotional impact. The assembled bikes were donated to children affiliated with the Kips Bay Boys and Girls Club. A representative of the Kips Bay organization led a heartwarming moment where two children and their moms arrived to collect the bikes. These moms had been part of the Kips Bay experience in their own youth, making the donation all the more poignant. The collective efforts of Amazon's team thus not only built bikes, but also contributed to sustaining generational ties within the Kips Bay community.
We extend our deepest gratitude to Amazon for their valuable contributions to the Kips Bay Boys and Girls Club. A special thanks also goes to the Kips Bay organization for allowing us to be part of this emotionally rich and rewarding experience.
Is your organization eager to make a real difference in your community while fostering team unity? Our Build-A-Bike® events offer just that—a perfect blend of competition, collaboration, and charity. Contact us today to schedule your team-building event in New York, NY!