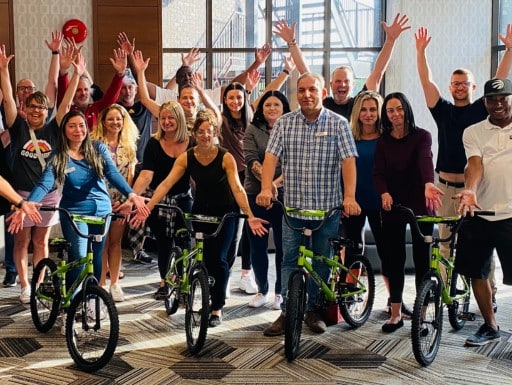 On Side Restoration hosted a Build-A-Bike® team building event at the Nottawasaga Inn Resort in Ontario, Canada. This event, which marked the culmination of a three-day conference, brought together 25 of their employees. It was not just an exercise in team building. It was also an opportunity to contribute to the community. All in all, the event aligned perfectly with their conference theme of "stronger together."
On Side Restoration stands as a leader in the Canadian restoration industry. For four decades, they've been dedicated to restoring homes and businesses affected by damages, offering services 24/7. With a fleet of emergency response vehicles and over 13,000 pieces of specialty equipment, their experienced and certified crew efficiently handle restoration projects across residential and commercial sectors.
On Side Restoration Strengthens Team Bonds and Community Ties in Ontario, Canada
The Build-A-Bike® event was an engaging finale to On Side Restoration's three-day conference. Initially, some participants were eager to wrap up and head home, but as the activity commenced, everyone fully immersed themselves in the spirit of the event. It provided an ideal platform for the team members to enhance their collaboration skills and foster deeper connections. The challenge of building bicycles not only tested their teamwork but also resonated with their theme of being "stronger together."
As the teams assembled bikes, the atmosphere buzzed with enthusiasm and cooperation. This exercise was not only about constructing bicycles but also about contributing to a noble cause. The employees' efforts culminated in a significant donation of bikes to the Boys and Girls Club of York Region. The charity expressed deep gratitude for this gesture, which will undoubtedly bring joy to many children in the area. This act of giving back to the community reflected On Side Restoration's commitment to not just restoring buildings, but also nurturing community bonds.
We extend our heartfelt thanks to On Side Restoration for their generous contribution to the BGC of York Region. Your commitment to community welfare and team unity is truly commendable.
Looking to build team spirit and make a positive impact in your community? Engage your team with our team building events in Ontario, Canada!