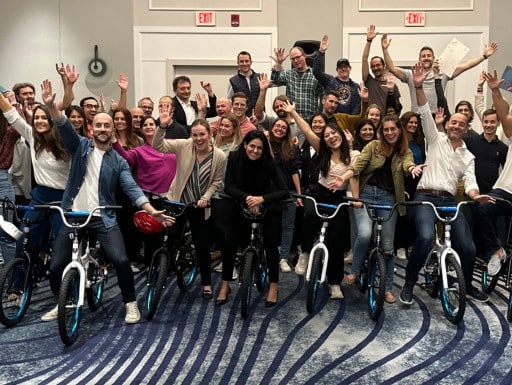 Dataiku recently organized a Build-A-Bike® team building event. This event took place in Old Greenwich, CT, and involved 70 of the company's key leaders. Coming from both France and the US, these leaders were assembled for a week of intensive training and projection forecasting. The Build-A-Bike® event, held as part of a managerial meeting, turned out to be a memorable and engaging activity, despite the group's initial fatigue.
Dataiku stands at the forefront of the AI and data analytics industry. They offer a platform that systemizes the use of data for outstanding business outcomes. The company helps both technical and business-oriented professionals to utilize data more effectively, enabling better daily decision-making. Dataiku's reach is global, with over 500 companies worldwide employing their services for a myriad of purposes. All in all, they cover everythign from fraud detection and churn prevention to predictive maintenance and supply chain optimization.
Dataiku's Leadership Team Fosters Teamwork and Community Support in Old Greenwich, Connecticut
The Build-A-Bike® event served as a unique platform for Dataiku's leadership team to strengthen their bonds. Despite the fatigue of a week-long conference, the team displayed remarkable enthusiasm in assembling bicycles. However, this activity was not only a team-building exercise. Additionally, it served as practical application of teamwork and collaborative skills.
The event's success was evident in the positive energy and satisfaction among the participants as they worked together to build bikes. Their efforts culminated in a significant donation to the Boys and Girls Club of Greenwich, bringing joy and mobility to children in the local community. This gesture underscored Dataiku's commitment to social responsibility and community engagement, reflecting the company's ethos of using its expertise for broader societal benefit.
We sincerely thank Dataiku for their contribution to the Boys and Girls Club of Greenwich and for demonstrating the powerful impact of combining team building with community support.
Inspire your team and give back to the community with our team building events in Greenwich, CT. They're perfect for companies looking to strengthen teamwork and make a positive impact.