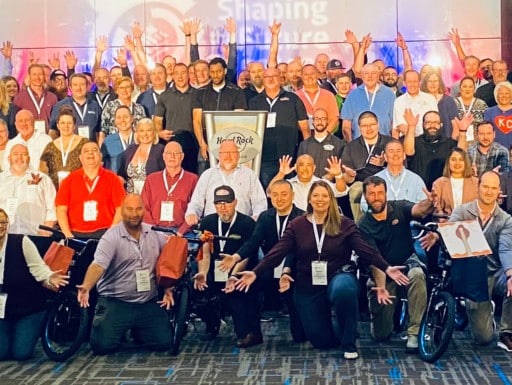 Pallet Logistics of America (PLA) marked the culmination of their national conference with a Build-A-Bike® event in San Diego, CA. The team of 150 participants rallied their spirits to assemble bicycles for students of Cesar Chavez Elementary School.
PLA, with its corporate headquarters in Dallas, Texas, has been revolutionizing supply chain solutions since 1989. Through their extensive network, they operate under several brands and manage over 75 facilities nationwide. PLA's commitment to efficiency and sustainability in supply chain management is matched by their dedication to social responsibility and community engagement.
Pallet Logistics of America Concludes National Conference with a Charitable Spin at Build-A-Bike® Event in San Diego, California
After days of intensive discussions and networking, PLA team members found a second wind in the Build-A-Bike® challenge. The event fostered a sense of camaraderie among the diverse group. Employees across various brands and roles within PLA united with the common goal of constructing bikes. All in all, they proved that teamwork and generosity are at the core of the company's culture.
The event took on a festive air as teams raced against the clock. Their energy was magnified by the knowledge that their efforts would bring joy to children. Additionally, the participation of Cesar Chavez Elementary School underscored the impact of PLA's community-focused values. The sight of the completed bikes, destined for students in need, underscored the PLA's ethos of giving back—a sentiment that reverberates beyond the day's activities.
We extend our deepest gratitude to Pallet Logistics of America for their heartfelt contribution. Additionally, we extend A special thank you to Cesar Chavez Elementary School for their invaluable role in the community and for helping to make the bike donation a momentous occasion.
Looking to end your company's conference on a high note? Consider one of our Build-A-Bike® team building events in San Diego, CA, and ride the wave of team spirit and community service!