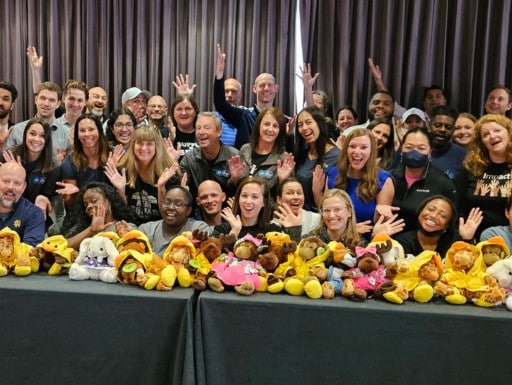 Proctor & Gamble (P&G) brought 60 employees together for a multi training session in Columbus, Ohio. They ended it on a charitable note with a Rescue Bear® team building event. Culminating in a philanthropic team effort, the event not only served as a pinnacle of their training. It also reflected P&G's dedication to sustainability and community support.
Proctor & Gamble stands at the forefront of consumer goods, delivering a diverse portfolio of products to millions worldwide. As a corporation, P&G is not only committed to improving consumer lifestyles with innovative products. They're also dedicated to environmental stewardship and corporate social responsibility.
Proctor & Gamble employees come together for a heartwarming Rescue Bear® event in Columbus, Ohio
P&G's staff from various departments came together, many for the first time, during a comprehensive training event. It was the Rescue Bear® activity that took center stage. In this game, teams leveraged their unique strengths in a series of creative challenges. The goal was clear: assemble teddy bears to deliver comfort to children in need! This mission harmoniously aligns with P&G's core values of compassion and communal contribution.
Each success in the team challenges brought them closer to their noble cause, earning materials to craft teddy bears for the Child Rescue Coalition. The event resonated with P&G's earth-conscious ethos as discussions about reducing carbon footprints wove seamlessly into the day's activities. The joy was palpable among the participants as they worked together, their collective actions symbolizing a greater commitment to societal welfare and ecological mindfulness.
A heartfelt thank you goes out to Proctor & Gamble for their enthusiastic participation and generous spirit. The teddy bears provided much-needed comfort to the children supported by the Child Rescue Coalition, and the environmental considerations taken during the event did not go unnoticed.
Is your team ready to make a difference? Join us and we'll help you create a memorable team building event in Columbus, OH!