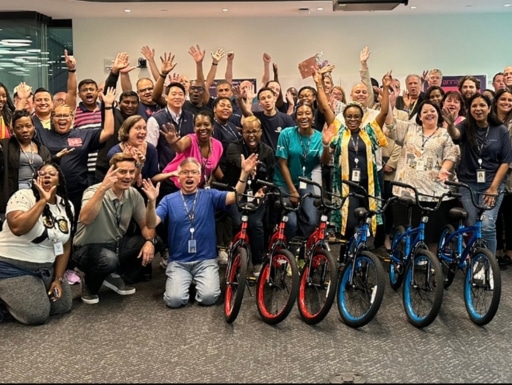 Randstad North America organized a Build-A-Bike® event in Atlanta, GA. The event was part of a tenth anniversary celebration to honor a beloved past employee, Myriam. Fifty participants came together with a common goal of encouraging connections and community spirit. Additionally, their efforts would go toward raising funds for cancer societies in the U.S., Canada, and Germany.
Randstad North America, Inc., a wholly-owned subsidiary of Randstad N.V., is committed to being the most valued 'working life partner' in the world, helping individuals realize their potential throughout their working life. Their services range from providing high-quality, diverse, and agile workforces to offering outsourcing, consulting, and workforce management solutions. In 2021, Randstad generated a revenue of € 24.6 billion and had an average of 39,530 corporate employees. The North American operations consist of more than 5,700 associates and a deployed workforce of over 86,000 in the U.S. and Canada.
Randstad North America Commemorates a Beloved Employee with a Bike Building Event in Atlanta, Georgia
This Build-A-Bike® event marked the tenth anniversary of Myriam, a cherished past employee who battled cancer. The occasion saw 50 participants working in harmony to build bikes. As the participants worked together, they created an atmosphere of camaraderie and mutual support, underlining the importance of connections and community.
The bicycles built during the event were donated to the Tony Matthews Boys and Girls Club. Beyond fostering team spirit and boosting morale, the event also served a greater purpose: raising money for the American Cancer Society, the Canadian Cancer Society, and a related German organization. This collective effort emphasized Randstad North America's commitment to community engagement and social responsibility.
We extend our heartfelt thanks to Randstad North America for their initiative and significant contribution. We also wish to acknowledge the Tony Matthews Boys and Girls Club for their participation and the essential work they do in the community.
Looking bring your team together for a worthy cause? Try one of our charity team building games in Atlanta, Georgia!