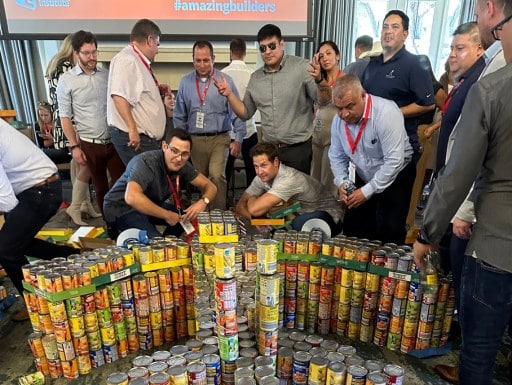 Southern Glazer's Wine & Spirits (SGWS) recently organized an Amazing Builders event for its annual gathering in San Antonio, TX. Adding a unique twist, participants built creative structures using canned food. The event was not only an excellent team-building exercise but also a way to give back to the community. At the end of the day, a whopping 8,000 cans of food were donated to the San Antonio Food Bank!
Southern Glazer's Wine & Spirits goes beyond being a mere distributor of wine and spirits. The company prides itself on a rich history of community involvement, innovation, and responsible operations. SGWS's structured approach encompasses community development, diversity, equity, inclusion, alcohol responsibility, and environmental sustainability.
Southern Glazer's Wine & Spirits Engages in a Unique Amazing Builders Event in San Antonio, Texas
This Amazing Builders event was unlike any we at The Leaders Institute have done in the past. Instead of the typical construction tasks, teams of employees were challenged to build structures from canned food. This innovative event took place during SGWS's annual gathering and was focused on enhancing teamwork, creativity, and problem-solving skills within the company. The participants eagerly accepted the challenge, and the activity was met with enthusiasm and excitement.
What truly set this Amazing Builders event apart was its charitable component. All the canned food used in constructing the structures—totaling 8,000 cans—was donated to the San Antonio Food Bank. This meaningful contribution aligns with SGWS's commitment to community development and social responsibility. It also provided the team with a greater sense of purpose, knowing that their efforts would directly benefit those in need in the San Antonio community.
We want to extend our heartfelt thanks to Southern Glazer's Wine & Spirits for their generous donation to the San Antonio Food Bank. Your contribution will go a long way in helping families in need. We also express our gratitude to the San Antonio Food Bank for their tireless work in feeding the community.
Is your team looking for a unique team-building event that also contributes meaningfully to your community? Our Amazing Builders events offer the perfect blend of fun, teamwork, and social impact. Contact us today to plan your team building event in San Antonio, TX!