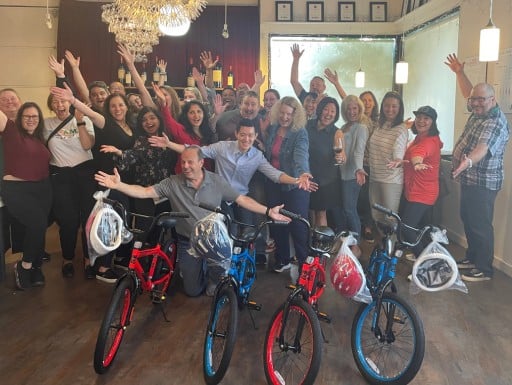 Seagen, a biopharmaceutical company specializing in cancer therapeutics, recently hosted a Build-A-Bike® event for 25 members of its IT Business Management Organization. The gathering, held at Ambassador Winery in Woodinville, WA, was especially poignant as the company is celebrating its 25th anniversary. The event served dual purposes: it reinforced team dynamics and benefited the local Northshore YMCA.
Seagen is at the forefront of cancer therapeutics. They focus on late-stage clinical trials and the expansion of its innovative portfolio both nationally and internationally. The company is particularly invested in antibody-drug conjugate technology aimed at delivering cancer cell-killing agents directly to tumor cells. Seagen is driven by its mission to improve and extend the lives of people living with cancer. They operate with a sense of urgency to discover, develop, manufacture, and commercialize targeted therapeutics.
Seagen IT Business Management Team Builds Bicycles for Northshore YMCA in Woodinville, Washington
The event brought together 25 members of Seagen's IT Business Management Organization at the tranquil Ambassador Winery, located in Woodinville. This off-site meeting was part of the company's 25th-anniversary celebrations, and it offered a unique opportunity for team building in an informal setting. Coming together at the Ambassador Wines tasting room, the team was eager to strengthen interpersonal relationships while taking a short break from their high-stakes work environment.
The team built four bicycles during the Build-A-Bike® event, all of which they donated to the Northshore YMCA, a charity located near Seagen's offices in Bothell. The charity component added an extra layer of meaning to the event. By contributing these bikes, Seagen not only exhibited their collaborative skills but also engaged with their immediate community, extending their company's mission to better lives, even beyond the scope of healthcare.
We would like to express our deepest gratitude to Seagen for their generous donation to the Northshore YMCA. The bikes will surely be a source of joy and mobility for children in the community. We also extend our thanks to the Northshore YMCA for their invaluable work in supporting local families.
Are you looking for a unique way to celebrate a company milestone while making a meaningful impact? Our Build-A-Bike® events are tailored to bring teams together for a cause. Get in touch to arrange your next team-building event in Woodinville, WA!