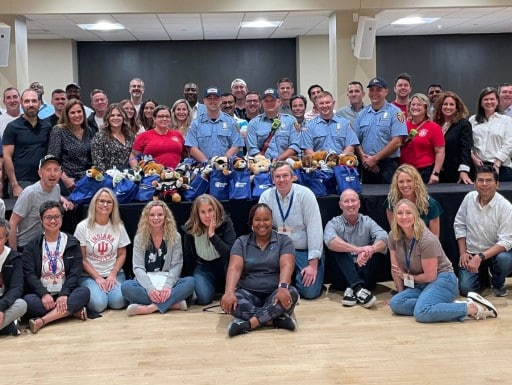 Vector Solutions chose to end the second day of their senior leadership meeting with a Rescue Bear® team building event. Hosted at Indiana University in Bloomington, IN, the event engaged 60 participants in creating stuffed animals. The toys were later donated to the Bloomington Fire Department.
Vector Solutions is a leading technology solutions provider committed to enabling better decision-making in critical sectors. Their portfolio includes an array of software options focused on training management, EHS (Environment, Health, and Safety) management, and risk communication. Vector's unique combination of information and technology serves more than 34,000 clients. This provides them with the tools they need for compliance, safety, and operational readiness.
Vector Solutions Cultivates Leadership and Compassion at Indiana University in Bloomington, Indiana
Taking place at Indiana University, Vector Solutions carefully integrated the Rescue Bear® event into their senior leadership meeting. Initially, the instructor divided participants into groups based on their unique strengths. Each group focused on enriching leadership skills and fostering a sense of team unity based on their personalities. Next, the small teams competed in creative problem-solving challenges. As they succeeded in these challenges, they earned materials needed to assemble stuffed animals. Participants were enthusiastic, and the event successfully accomplished its aim of strengthening interpersonal relations within Vector's senior leadership.
Beyond team-building, Vector Solutions' Rescue Bear® event had a charitable component that aligned perfectly with their commitment to community well-being. All in all, the team donated a total of 30 stuffed animals to the Bloomington Fire Department. These stuffed animals will be used to provide comfort to children who have undergone trauma, underscoring Vector Solutions' dedication to social responsibility.
We want to express our deep gratitude to Vector Solutions for their thoughtful donation of stuffed animals to the Bloomington Fire Department. Your kind gesture will bring comfort to children in critical situations and is a meaningful way to give back to the community.
Are you planning a senior leadership meeting and looking for a meaningful way to engage your team? A Rescue Bear® team-building event in Indiana not only fosters internal cohesion but also allows you to give back to your community.